VIEWPOINT
Special to The Observer Editorial Board
By CIS staff members Virginia Covill, Director of Research and Evaluation, and Federico Rios, Director of Northeast Learning Community and Newcomer Services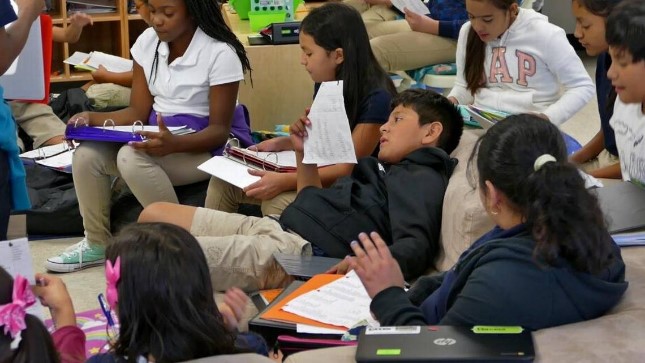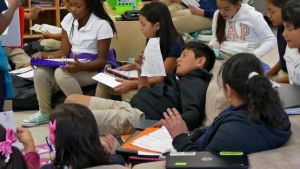 Students in struggling schools and communities sometimes lack social capital. Photo: Davie Hinshaw, Charlotte Observer
Children's aspirations, and the size of their worlds, are often defined by the people and relationships that surround them. A network of caring relationships helps turn a child's dreams into reality by providing guidance and access to opportunities. However, for many children in Charlotte, these relationships do not exist. Their worlds, and ultimately their dreams, are more limited because they have fewer connections. They lack social capital.
The Opportunity Task Force report released last spring emphasizes the importance of social capital, which, at its core, is the idea that relationships matter and have value. The report also highlights that Charlotte is an economically and socially divided city.
Charlotte ranks 50 out of 50, dead last in economic mobility among U.S. urban cities. There are more than 50,000 students in Charlotte living in poverty and almost as many living below our basic standard of living. The number of Charlotte residents living in poverty has doubled over the last 10 years. And, already-high-poverty areas have seen a 326 percent growth in their poor populations.
In other words, Charlotte has more concentrated poverty than ever before. Not surprisingly, increased concentrated poverty and the hyper-segregation of our neighborhoods is eroding our collective social capital. Many kids living in concentrated poverty have trouble imagining worlds different from their neighborhood. Their inherent talent and potential is at risk of being squandered without a collective focus to change our community's trajectory by becoming a leader in social capital. The time to act is now.
How? Each one of us can identify the value that we bring to relationships (e.g., expertise, skills, connections, etc.) and find ways to intentionally connect with others outside of our immediate network. We must commit to investing in building relationships of trust, connection, and proximity with others who are not naturally in our lives. There are ways to accomplish this formally and informally: offer an afternoon job shadow or an internship to a high school student from a school or neighborhood other than your own; have dinner with someone different than you; or engage through a formal volunteer or mentoring program, like Success Coaches at Communities In Schools.
Communities In Schools (CIS) is an organization built on the premise, "Programs don't change children – relationships do." For more than 30 years, CIS has placed full-time professionals in public schools to help students develop plans for success, connect them with critical resources and navigate systems.
Building social capital starts one person at a time. If we do it well, we would become a city with greater trust, cooperation and cohesion. We would surround our children with robust support systems to help them develop social-emotional skills, achieve academically, dream big, access opportunities and thrive in the world. Ultimately, we would be a city filled with residents who have a shared commitment to helping one another achieve a better future for every generation.
We've long been a can-do city built on banking and a hub for financial capital. Now it's time to establish our reputation for building social capital.