Career Opportunities with Communities In Schools
Communities In Schools is the nation's largest organization dedicated to empowering students to stay in school and on a path to a brighter future. Our team of diverse, positive leaders works to eliminate barriers and connect students to caring adults and community resources designed to help them succeed in school and in life. We are in schools supporting students and families every day. We are All In for Kids!
Top Workplace Award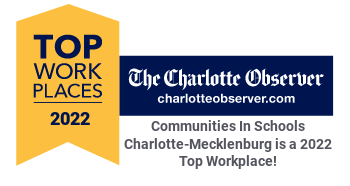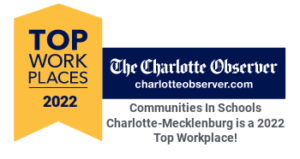 CIS was recently named a 2022 Top Workplace by The Charlotte Observer! The Award recognizes positive work life and culture based solely on employee feedback, captured through a research-based, anonymous workplace survey. Learn more here about this Top Workplace Award.
Communities In Schools (CIS) received a Charlotte Observer Top Workplace Award in 2017, recognizing CIS for its positive work life and culture. as well as receiving the 2017 Neighborhood Leadership Award for Community Service by the City of Charlotte.
Come Join Us at CIS!
Any CIS job opportunities will be listed at the website link below. If there are no openings posted below, please check back periodically to see new openings. CIS is an Equal Opportunity Employer