Class of 2021
Independence High School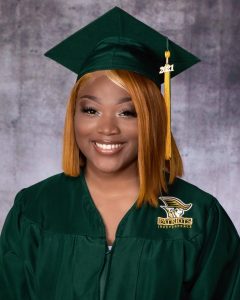 There's no stopping Independence High School Class of 2021 graduate Treasure Martin. Having graduated at just sixteen years old, she knows the importance of staying focused in order to achieve your dreams.
Despite the challenges she faced when school shifted to a
completely remote environment, she pressed on. Treasure credits her CIS Site Coordinator Kedra Murray and a member of the school staff with helping to keep her motivated and on track.
 "The first semester was super hard. I was barely focused and had no motivation, but second semester, Ms. Murray and Ms. Howie would send me encouraging emails at least once a week. The emails always put a smile on my face and gave me the confidence that I needed!"
That's exactly why our team is so committed to seeing students thrive.
"The most important advice I received from Ms. Murray was to never give up. She told me that I can accomplish anything that I put my mind to," Treasure said.
Treasure plans to continue her training as a beautician and esthetician in order to advance her career. This budding entrepreneur also hopes to travel and open up her own beauty shops around the world. We expect great things from Treasure and can't wait to see her dreams come true!