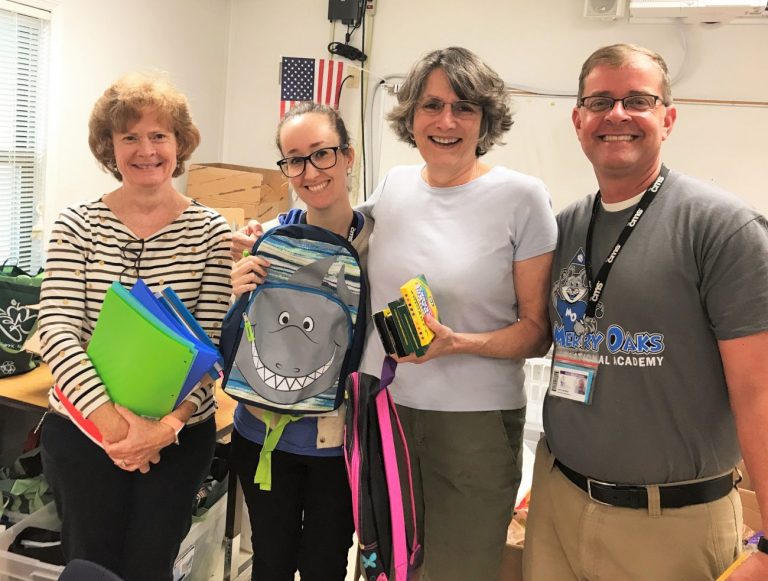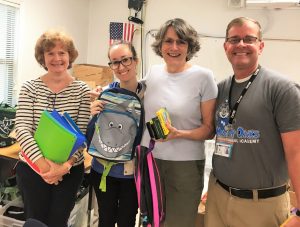 "Merry Oaks is so fortunate to have a partnership with the wonderful ladies in the St. John's Episcopal Church Women's Group," says Carol Chadwick-Nixon, the CIS Site Coordinator at the school. "Not only are they providing many of the essentials that our students and teachers need, but also the little 'extras' that make you feel special and cared for."
Merry Oaks International Academy, serving grades PK-5, is a small (~500 students) CMS Title 1 school located in the Merry Oaks neighborhood off Central Avenue in east Charlotte. There is a lot of diversity, with families from 28 countries and 35+ languages spoken! 
"It's really a wonderful school with a warm, family-like culture," said Chadwick-Nixon. "but there are also a lot of needs.  I've been working with the Women's Group from St. John's Episcopal for three years now, and one thing I've learned – whenever there is a need at Merry Oaks, we can count on them to fill it."
Chadwick-Nixon described how St. John's brought loads of winter coats when they learned so many students were coming to school without a coat. When some of the 5th graders didn't have special clothes to wear for their "moving up" graduation ceremony, St. John's bought shirts, pants, and dresses so the children could feel extra special on their special day.
The Women's Group at St. John's has also provided lots of school supplies, holiday gifts and a party for all of the CIS students at the school, Valentine's Day treats for every single child at Merry Oaks, Starbucks gift cards during Teacher Appreciation week, and delicious breakfasts for the school staff every quarter. Now, as students are struggling with remote learning, St. John's is raising money to donate WiFi hot spots to the CMS Foundation.
"CIS and Merry Oaks are so blessed to have such a strong community partner in the Women's Group at St. John's Episcopal," Chadwick-Nixon added. "We are so grateful for all they are doing to make our school even better for our families and staff."