Yafreysy Mora
West Mecklenburg High School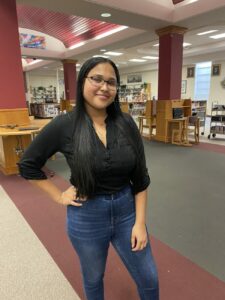 This fall, Yafreysy Mora is headed to the university she has always dreamed of attending – and on a full scholarship! She says when she signed up for Communities In Schools' TRiO Talent Search program at West Meck, she had no idea how much she would gain over the next few years in the program. 
Yafreysy's family is originally from the Dominican Republic. She was 12 years old when they came to the United States. Through her CIS/TriO Counselor Alexis Bibbs, Yafreysy says she had so many amazing opportunities for college and career readiness, college fairs, and scholarships. It was at a college fair hosted by CIS at West Meck where Yafreysy learned about Johnson C. Smith University and also the Golden Door Scholars for undocumented students. With support from Mr. Bibbs, she applied and received a full ride to JCSU! 
"Mr. Bibbs has been more than a coordinator or instructor to me – he has been a mentor, friend, and father figure," says Yafreysy. "In my junior year I was struggling with some depression and anxiety, due to my family situation. The way I managed high school, especially during my junior and senior years, would not have been the same without Mr. Bibbs. I could not be more grateful for his support and helping me to realize my dream to attend JCSU!" 
Yafreysy plans to study Business Administration with a concentration in Finance. She has her sights set on taking the CPA Exam right after college graduation and hopes to work as an Auditor with Deloitte.
Proud of you, Yafreysy – you are a "go-getter" and now you are on your way!