Marvin Vasquez
Garinger High School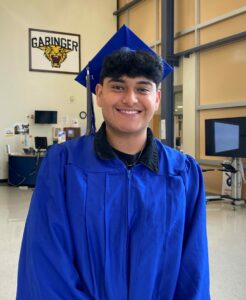 Initially, Marvin was unsure about going to college, but he soon changed his mind after meeting his CIS Site Coordinator, Maria Duran, at Garinger High School.
"I really appreciate all of the help she has given me," Marvin said of Duran. "She has been the only one I felt I could trust at Garinger to share my problems, and she always finds a way to help. She provided me with so many resources to help me succeed in my senior year." 
Marvin says Ms. Duran took the time to get to know him, and he eventually confided that he was interested in becoming a crime scene investigator. From there, she encouraged him to explore his interest and consider higher education to make it a real possibility. 
"Thanks to Ms. Duran, I have seen my potential and what I am really capable of," Marvin said.
Marvin's family came to the U.S. from Honduras nine years ago. He is the first in his family to graduate high school in the United States. Marvin plans to enroll at Central Piedmont Community College this fall, where he will study Criminal Justice and tackle his next goal: becoming the first in his family to graduate from college! 
We know you can do it, Marvin – CIS is rooting for you!