Class of 2022
Myers Park High School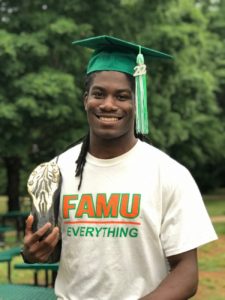 CIS senior Justice Crawford is practically a "Renaissance Man"…. one minute you'll find him running lightning-speed sprints on the school track, the next you'll see him onstage accepting the top Orchestra award at Myers Park High School (he plays the viola).  Then again, you can often find him clicking the keys of his laptop as he learns the latest tips and tricks of coding and cybersecurity.
Justice is headed to Florida A & M University, where he has received scholarships to join the track team. His specialties are sprinting and long jumping. While he loves the sport, he is just as passionate about landing a job in cybersecurity as an "Incident Responder," where he would take down live "hackers" who want to tamper with databases. To that end, he is planning to major in Computer Science at FAMU.
Justice says that CIS has played a big role in his career interest:  his CIS Site Coordinator at Myers Park, Stacey Weinstein, arranged for Justice to participate in a cybersecurity workshop with professionals based in California. "We learned how to develop and solve solutions to cybersecurity attack scenarios," said Justice. "It was cool."
CIS has supported Justice in other ways, too.  One of the things he is most proud of in his high school career is just getting through the pandemic while doing school remotely.  "As an athlete and someone who likes to be around people, I was unmotivated at times and it was hard," said Justice.  "I was worried about my athletic opportunities as well.  Fortunately, it all worked out and I found strength to get past that with support from family, school and CIS."
"CIS has been a great thing for me," added Justice. "Mrs. Weinstein is someone I can go to. She has written so many recommendation letters for my college scholarship applications, too." 
Justice mentioned that he was also in CIS when he was in elementary school with Ms. Kennington at Winterfield Elementary [Anna Kennington, who is now a program director with CIS]. "I've been lucky to have great people in my corner," said Justice.
We are excited for the next part of your journey, Justice…. FAMU is indeed getting a fantastic student-scholar-athlete and we wish you all the best!