Charles Close
Garinger High School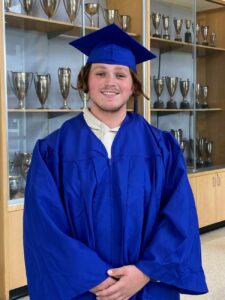 Charles is joining #NinerNation this fall and his CIS Site Coordinator, Maria Duran at Garinger High School, could not be more proud!
"Charles is the type of student who dreams big, perseveres, and continues to knock down all the obstacles he may face along the journey," said Ms. Duran. "He has allowed people to pour into him so that he can one day pour into others. Charles will surely go far in life."
Charles is grateful to Ms. Duran for connecting him with a mentor, who helped him learn "life lessons" and "pour into him" as Ms. Duran described. He also credits CIS for helping him learn more about his career interest of game programming and the colleges that offer such programs. Turns out that
UNC-Charlotte offers
a Game Design and Development (GDD) certificate that is part of their Computer Science program, and Charles has received an academic scholarship from UNCC!
Not surprisingly, Charles' best subjects in school are math and science – but his #1 favorite? Astronomy! He hopes to incorporate his love for astronomy into his game development. One last piece of advice that CIS will offer to Charles as he takes this next big step in life's journey seems more appropriate than ever: "Always shoot for the stars, Charles, shoot for the stars!"