Class of 2017
South Mecklenburg High School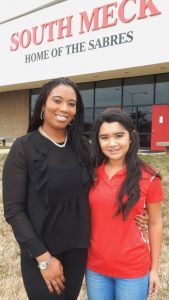 Congratulations are in order for Sandra Monrroy, a CIS senior at South Mecklenburg High School. She is the first Latina student in CMS to be named to the Regional Women's Golf Team! She has played golf for just two years, and it was a former CIS Site Coordinator at South Meck (Joe Rothenberg) who encouraged her to give the sport a try. Sandra ended up loving it, though she will tell you that it is very challenging and demands lots of hard work and practice.
But Sandra is no stranger to challenges. Sandra's family is originally from Honduras, and she did not know a word of English when she started pre-school in this country. Adjusting to a new culture and language was one of her greatest challenges, says Sandra, but she believes the experience has prepared her to face other obstacles along the way – such as learning the difficult sport of golf.
While Sandra enjoys golf and would love to play at the collegiate level, the competition is fierce and she is realistic about her options; she knows she may need to be satisfied with "recreational" golf. Fortunately, Sandra has other interests and is an excellent student. Most of her courses this spring are AP classes, including AP Calculus and AP Human Geography, and she currently has a 3.8 GPA.
At the beginning of this school year at South Meck, Sandra met new CIS Site Coordinator Ebony Wilson, who, according to Sandra, has been very influential in helping her navigate the college application process, and in particular guiding her about college choices based on her interests and potential fields of study. This has been critical support for Sandra, as she will be the first in her family to attend college.
Sandra and Ms. Wilson discovered they had similar career interests as well. Ms. Wilson majored in clinical psychology and Sandra is interested in working with exceptional children. She has volunteered as a peer buddy with autistic children and based her Senior Project on the subject. Ms. Wilson helped Sandra determine that a career in occupational therapy would be a great fit for her.
"Sandra is very personable and we seemed to have an instant connection," said Ms. Wilson. "She is sweet, studious, and a strong leader. With or without golf, with her academic record and her determination, Sandra is going to do well. I'm very happy for her."
The good news is beginning to make its way to Sandra's mailbox: so far she's been accepted to Belmont Abbey College, Wingate University, and Queens University of Charlotte. Belmont Abbey and Wingate have offered her substantial scholarships. She's waiting to hear from a few more before making a final decision, but we're certain on one score: Sandra is committed to her education and any college campus would be lucky to have her!