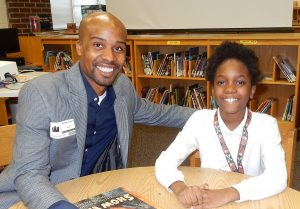 As a CIS Success Coach to a fourth grade student at Westerly Hills Academy, a Dine Out For Kids' supporter with his Kona Ice Truck in Northwest Charlotte, and as a Social Capital Investor through his previous employment at Vanguard, Reggie Nelson has completely immersed himself into our Communities In Schools' culture and family.
Reggie is on his second year volunteering with Communities In Schools. He heard about our program and mission from a colleague at Vanguard and has grown to be a leader and an all-star volunteer. After hearing about CIS from his colleague, Reggie fell in love with our mission and knew he had to get involved. Being so involved in CIS has given him the chance to give back to his peers and community. Before joining the CIS team, Reggie researched the program and saw success story after success story. After learning about the impact CIS has been having in Reggie's community, he thought to himself, "I have to be a part of this!"  — and he hasn't looked back since.
While Reggie volunteers with CIS in many ways, his favorite volunteer role is spending time with his mentee, Kelvin, at Westerly Hills Academy. Whenever Reggie walks through the door at Westerly Hills, Kelvin runs up to him, yelling, "BUDDY!" and gives him a big hug. Kelvin and Reggie usually spend their lunches hanging out in the library reading books, talking about their favorite ice cream flavors, or exchanging their stories and dreams for the future. Reggie has built a trusting relationship with Kelvin, not only by helping with school work, but also by playing games and just spending time together talking. Kelvin now feels comfortable talking to Reggie about challenges he may face with his friends at school and things going on at home or around his neighborhood – important factors, especially for a young boy. Providing a safe place for Kelvin to learn and grow is one of Reggie's primary goals as a Success Coach.
Reggie shared that programs like the ones CIS offers did not exist when he was growing up, and he recognizes the impact of a one-on-one relationship with a caring adult. It makes Reggie's day knowing he is making a positive difference in someone's life. It is obvious the positive and lasting impact he is making in Kelvin's life and so many of our other students' lives by being an "all in" community partner. We are so thankful that Reggie is All In For Kids!