Class of 2019
Myers Park High School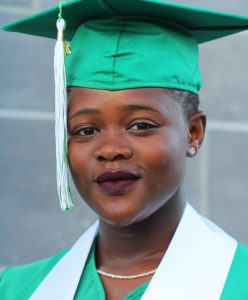 Communities In Schools is so proud of Ornella, who was recently named a finalist in the CIS National Student Voices Sweepstakes, "What We Are Made Of." What is Ornella "made of?" Here in her own words are five items that she chose to represent her identity, giving readers a glimpse into what an outstanding young lady she is:
Lieutenant Colonel in JROTC – This is the highest rank a high school student can hold, and at Myers Park, it has always been held by a male, non-minority student. Ornella is the first African-American female to obtain this rank in Myers Park's battalion! She loves being a role model for girls and other minority students.
The color yellow – "Because it is very vibrant, like my personality."
Books – "I absolutely love reading, especially fiction, because it can transport me to another world where I can envision my dreams lived out."
Thrift shopping – "I like to put new and old styles together – it represents my creative side and how I can combine two worlds or cultures and make them into one."
My natural hair – "I express myself by wearing my hair natural, which magnifies my confidence and allows me to be just that – 'me' – no excuses, no mirage, no altered state."
Ornella has faced challenges in her life, but believes those challenges have helped make her who she is today. Her family was homeless for a while when she was younger. "When you are without material things, you learn just how valuable people are for just being their true selves in a very hard and difficult time," Ornella explained.
Ornella also shared that her brother has severe autism. "He has taught me to have a lot of patience and to love hard – and I have come to realize that I need him as much as he needs me."
And all of her life, Ornella has watched her mother struggle but never give up on what she set out to give her children. "My mother left a war-zoned country to come here and make a better life for me and my brother," Ornella said. "I have watched her sacrifice and struggle a lot, but she constantly pushed responsibility, confidence, and love on me. She has by far been the biggest influence in my life."
Another significant influence in Ornella's life has been her CIS Site Coordinator, Stacey Weinstein, whom she met in the 9th grade at Myers Park. "I've always had to push harder with grades and have had some confidence issues," said Ornella. "Ms. Weinstein saw a future in me. She saw growth and was going to do anything to help me see that as well. She instilled hope in me, and has helped me grow into a woman with a mindset that is confident with what I want to do with my life."
Ornella's dreams are no longer fiction: she is headed to Winston-Salem State University in the fall to study Business/Marketing. And CIS is certain she has a vibrant future ahead – just like her personality!