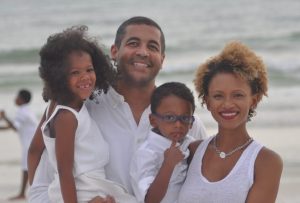 CIS is pleased to announce Natalie Alston as the incoming Chair of the CIS-Charlotte Board of Directors. She will serve in this role from July 1, 2020 through June 30, 2021.
Natalie joined the Board in 2015. She has served on the Program Evaluation and Governance Committees. Natalie's family moved to Charlotte when she was in elementary school. She attended CMS schools and is a proud graduate of Independence High School; then attended N.C. State University and Harvard Law School. A former practicing attorney, Natalie now owns an interior design business and is a busy mom to Naomi and Willie (pictured above along with Natalie's husband, Will).
Natalie is passionate about Communities In Schools and the organization's unique ability to improve economic and social mobility for kids. 
"CIS has known for years that the key to socio-economic mobility for our kids is access to opportunity and to a caring adult who can help them navigate through the complications that often accompany them to school," said Alston. 
"Now we've all been thrust into this COVID-19 environment where students are isolated at home and access to resources and support is even more challenging for them," added Alston.  "But because CIS has always placed a focus on building trusting relationships with students and families, and by encouraging our staff to leverage their own specific talents to meet the needs of their students, our staff are well positioned to connect with their students in this pandemic environment and keep them engaged at a time when they may need it most."
Welcome to Our New Board Members for 2020-21
We welcome the following new members to the CIS-Charlotte Board of Directors. A complete list of current Board members can be found at this link. CIS-Charlotte is grateful to all of our Board members for their time, expertise, and commitment to the organization.
Titi Cole, Wells Fargo
Jordan Collier, Bristol Myers Squibb
Shivani Mehta, Atrium Health
Laura Vinroot Poole, Founder and Owner, Capitol and Tabor
Nate Salley, Founder and Owner, Audible Coaching and Consulting
Diamond Staton-Williams, Atrium Health and City Council for Harrisburg, NC
Daniel Valdez, The Hispanic Federation