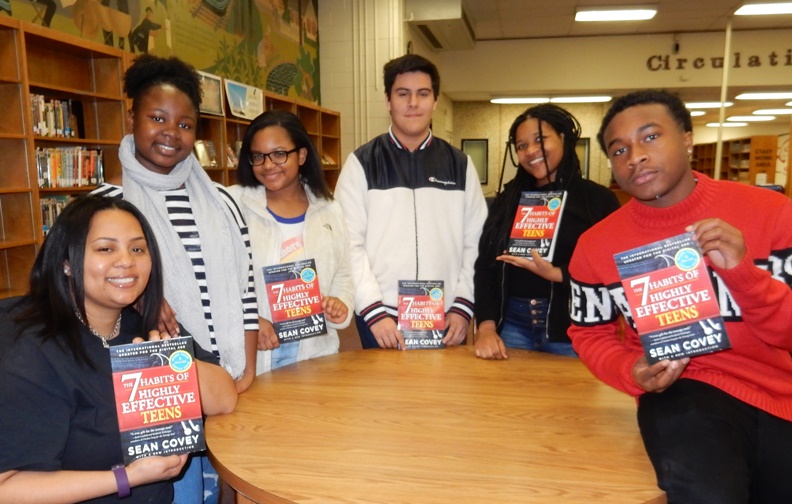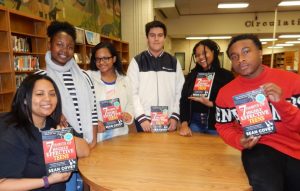 Shout-out to Amelia Abbott and Do Good CLT for donating 20 copies of Sean Covey's The 7 Habits of Highly Effective Teens to CIS Site Coordinator Jeannette Jackson for her new book club at South Mecklenburg High School. Jackson is launching the book club for CIS students this winter and says the club will encompass much more than your typical book club, with plans to study each of the "7 Habits" and develop community and school service projects around those themes.
Jackson previously was a CIS Site Coordinator at Garinger and West Mecklenburg High Schools, but this fall moved locations to South Mecklenburg. South Meck's principal asked Jackson to develop an activity suited for 9th and 10th grade students that would provide academic enrichment as well as motivation for students to become more engaged in school. Jackson considered several ideas, but the light bulb went off when she remembered that her husband had just started reading The 7 Habits of Highly Effective Teens with their 15-year-old daughter.
Jackson knew that a book club would offer academic enrichment, and that this particular book would be ideal for teens. "This is the perfect book for high school students to read and discuss," said Jackson, "especially those who need some direction and motivation and need to build their self-confidence."
The book club will also serve as a "leadership cohort" of CIS students at South Meck, with students in the club taking the lead on the service projects and recruiting other students to get involved.
"I am selecting students for the club who will benefit from this extra push to examine their potential and step up," said Jackson. "I see in them what they may not see themselves, and I feel like participating in the club will really pull out the leader inside of them."
Editor's Note: Thanks again to Do Good CLT for the donated books. Do Good CLT, founded in 2016 by Amelia Abbott, Katherine Culp, and Lindsay Jones, is a local nonprofit with 150+ women members who mobilize locally to propel positive, systemic change in four focus areas of Education, Immigration, Racial Reconciliation, and Women's Rights. FInd out more at https://dogoodclt.org/.