Class of 2016
West Charlotte High School
From homelessness and just getting through each day, to becoming a high school graduate with all A's and B's headed to college on scholarship… meet Tra'Quan Cunningham, Class of 2016 CIS graduate from West Charlotte High School. Tra'Quan – known as Tra' to his friends – will tell you that he is a prime example of "it takes a village…" He will also tell you that he came very close to becoming another dropout statistic.
"Tra' has come a long way since I first met him when he was a 9th grader at West Charlotte," said Tra's former CIS Site Coordinator, Alexis Bibbs. "I remember the day I met him. To see him today, the difference is just amazing. His attitude, the way he dresses, the way he carries himself… it's like a different person."
Tra's family life was very difficult. He was out on his own as a young teenager and ended up living with a friend, then moved in with a brother, then had to move back to the friend's house. School was almost an afterthought – it was more about survival and where he was going to lay his head each night.
But help came when Tra' met Trevor Beauford, who currently serves on the CIS Board of Directors. A youth minister at Friendship Missionary Baptist Church, Beauford met Tra' when Tra' was in middle school at the former (now closed) J.T. Williams Middle School. Beauford wanted to volunteer as a mentor and the principal introduced him to Tra'. Beauford has remained in Tra's life and a few years ago, when Tra's living situation was at its worst, he took Tra' in and gave him a stable home environment.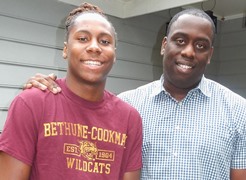 Tra'Quan got involved in CIS in the 8th grade at Druid Hills, where he met Site Coordinator Suzanne Hunt. Hunt made sure that Tra' got connected to Mr. Bibbs the following year at West Charlotte.
Bibbs and Beauford together saw Tra's potential and his determination. "I think Tra' recognized the dysfunction around him [at home] and wanted more, and that's what drove his decision to not only begin listening to our advice and the things we were telling him, but to really embrace it," said Bibbs.
"We've had many, many conversations over the years, but if a kid is not ready or willing to take the advice, it just won't work," added Beauford. "At some point, he made a conscious decision to accept our guidance and wanted to do whatever it took to improve his future."
Beauford told Tra', "You need to study… you can't make good grades just by showing up." Tra' started doing his homework faithfully, and soon he was making A's and B's. He threw himself into school life, joining the baseball and track teams, serving on the student council, and was voted Homecoming King.
During his junior and seniors years, Tra' was in the TRiO program (run by CIS), which prepares and assists low income and "first generation" students to attend college. His CIS TRiO Counselor at West Charlotte, LaQuetia Hollis, introduced Tra' to the admissions counselor at Bethune-Cookman University, a good friend of hers, and together they helped Tra' obtain several scholarships.
In early August, Beauford and Tra' spent a few hectic days doing laundry and packing the car, preparing for the 7-hour drive to Bethune-Cookman… and the road to a better future.