CIS Coordinator and Students form Jazz Band at Vance High School
Looking for some entertainment for an upcoming event? Perhaps a backyard soirée on a hot summer's eve? You might want to contact Momentum, a jazz band recently formed by CIS students at Vance High School!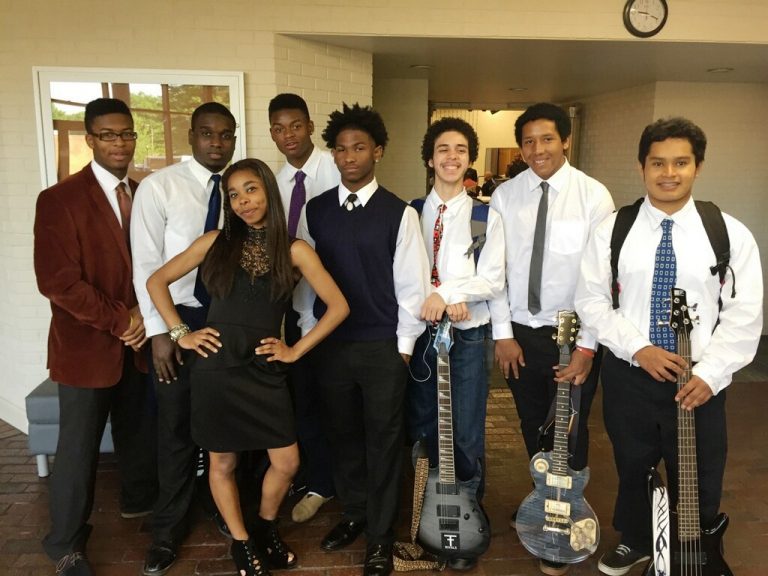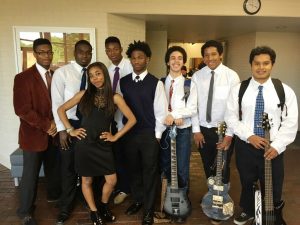 The idea and inspiration for the band initially came about when CIS Site Coordinator Stuart Barrett (at Vance) met one of his students last fall who was unmotivated, disengaged from school, and showed little interest in completing his assignments. After learning from the student's mother that he had an interest in drums, Mr. Barrett, a trained musician (drums and percussion), initiated a conversation with the student about drums and invited him to bring his drum sticks the next day so they could play together. Playing drums turned into long conversations about school and home. Other students heard them playing music and wanted to join in. One day, Mr. Barrett saw a few students in the cafeteria with guitars and started asking them questions about music. He saw the potential that a band could have for building rapport with students and using it as motivation for succeeding in school. Within a couple of weeks, Momentum was born!
One of the "side" benefits of the band has been the camaraderie and support built among the students through their mutual love of music. But Mr. Barrett has stressed to the students that in order to continue the band, all the band members must take school seriously – having good grades, completing all assignments and attending school each day is a requirement for all band members. One student was recently suspended from playing because he allowed his grades to slip.
This past school year, Momentum performed once a week during the lunch periods at Vance. The band is already building a fan base and has been invited to perform at various CIS agency functions this spring.
Band Members: Maya Latham-Vocals, Julian Figgers- Vocals, Jared Perez-Guitar, Kiemani Sanders-Guitar, Jelani Barber –Piano, John Adams-Drums, Daniel Miller-Bass, Gerardo Herrera-Bass
Advisor: Stuart Barrett, CIS Youth Development Coordinator at Vance High School
Related Article in Time Magazine, Dec. 2014 issue – Studies have shown that learning to play a musical instrument is great for developing brains. A new study from Northwestern University revealed that students who played musical instruments in a music class had more improved neural processing that students who just attended a music appreciation class (listening only).