Math Tutor at South Mecklenburg High School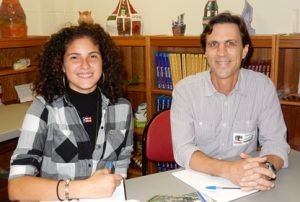 CIS Site Coordinator Ebony Wilson says students at South Meck have repeatedly paid the highest of compliments to CIS volunteer Ken Cotner, who volunteers as a math tutor. Wilson noticed that her students would be uptight and a little nervous before meeting with Cotner for the first time. "I think they were intimidated and weren't sure they liked the idea of a tutor," said Wilson. "But nearly every time after their first meeting with him, the kids would come back to me and say, 'He's cool!' Talk about someone who relates well with teens – Mr. Ken takes the prize!"
Cotner's daughter graduated from South Meck a few years ago, and he had volunteered at the school as a South Meck parent. However, it was when he ran into Sarah Shifflet, a former colleague from Bank of America, that he learned more about Communities In Schools and the agency's mission to provide resources and support to students in need. Shifflet, who is now Resource Development Director for CIS, connected Cotner to CIS Site Coordinators Wilson and Marta Falcon at South Meck. Mr. Ken has been in high demand ever since!
Cotner says he enjoys getting to interact with young people and seeing a student grasp a concept with which he or she has struggled. "Being around the kids gives me energy, and when I'm able to provide some actual help, I get a sense of accomplishment," Cotner said. "I've also been blessed throughout my life with help from many people, and there is, I believe, an obligation to pay that forward."
Wilson added that nearly all of her students' math grades have improved. "We are so appreciative of his time and talents, and the students adore him," said Wilson. "South Meck is definitely a better place because of him."
To find out more about volunteer options with CIS, contact Sarah Shifflet or Yeeva Cheng at volunteer@cischarlotte.org.