Artwork by a CIS student from Bruns Avenue Elementary School
Thank you for including Communities In Schools in your holiday giving to help us provide all of the support and resources students need to be successful in school and achieve their full potential. From now through December 9, if you make a donation to CIS in honor or in memory of family, friends or colleagues, we will send a card (sample above, with artwork by a CIS student) notifying them of your gift.  Or simply make a donation if you do not wish to send cards. (Suggested donation is $15 minimum per card sent on your behalf).
Your Donation or Purchase of Cards Supports Students
Students in Charlotte and across the country, especially those from low-income backgrounds, continue to struggle from the significant effects of the pandemic on their learning and their mental health. They have fallen behind academically and many are still disengaged from school. The majority of students CIS serves are from marginalized backgrounds, living in households earning less than $35,000 a year. These are the students who have been impacted the most, with the pandemic amplifying existing racial and socioeconomic barriers and widening the inequity gap.
Yet we know our students have so much potential, and they deserve every opportunity to experience success in school and beyond. Our CIS Site Coordinators are in school every day, building relationships with students and families, identifying barriers, and working to rekindle a love of learning to motivate students to reengage in their classes. They ensure that students' basic needs are met, while connecting them to college and career opportunities, academic and cultural enrichment, social-emotional supports and more.
Here's How Your Gift Can Make A Difference
$50       Nutritious food and snacks for three students.
$125     Clothing and hygiene items for four students. 
$250     College access, career-readiness, and social capital activities for six students.
$500     Academic support and enrichment for 10 students.
$1500   Individualized case management for one student for the full academic year.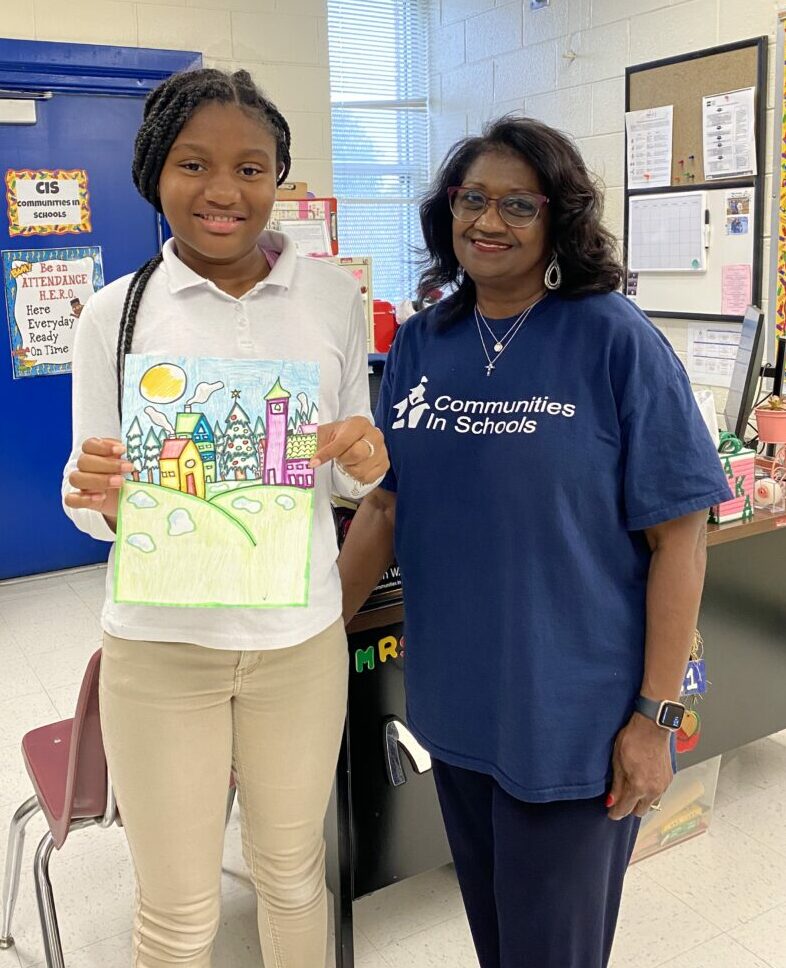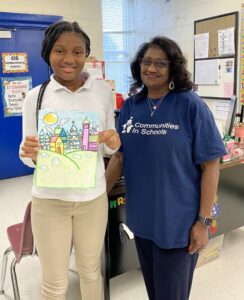 Meet the Artist!
Meet the artist of this year's Holiday Card! Taleah is 10 years old and in the 5th grade in CIS with Site Coordinator Karen Neal at Bruns Avenue Elementary.
In addition to art and drawing, Taleah loves to dance (ballet and tap), and play basketball. In school her favorite subject is Language Arts. Our Site Coordinators work with their students to set goals, and one of Taleah's goals this year is to make the "A" Honor Roll. Taleah added that she is "going to make this school year my very best!"
About her artwork for the card, Taleah said she loves being outdoors and was inspired by imagining her neighborhood during a winter snowfall.
Sol Hong, Bruns Avenue's art teacher, says Taleah is a creative and independent student. "I see great things in her," said Ms. Hong, "and can't wait to see more!"
We feel the same, Ms. Hong, and look forward to seeing Taleah's talent develop. And thank you, Taleah, for sharing your beautiful artwork with CIS!