What is social capital? At its core, social capital is the idea that relationships and networks have value, and when those networks are shared, they will expose people to new possibility and open doors to opportunity.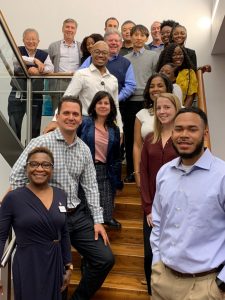 Communities In Schools has long recognized that intentional relationships with students can be life-changing and a contributing factor in their success. For more than 30 years, our CIS Site Coordinators have been widening access and connecting students to resources and opportunities, building social capital one student at a time.
So in 2017, when the Charlotte-Mecklenburg Opportunity Task Force identified social capital as the "secret sauce" for improving economic mobility among citizens, CIS-Charlotte stepped forward to create even more social capital opportunities for students. With support from Albemarle Corporation and Foundation For The Carolinas, we launched a city-wide social capital movement in April 2018, "All In For Social Capital."  The Charlotte community responded with enthusiasm: at that one event, more than 180 companies and individuals pledged to provide social capital exchanges with our students.
But that was just the start, and the kick-off to a year filled with amazing events and social capital success stories. [Click here to read the Summary of  our "All In For Social Capital" 2018-19 inaugural year.]  Having experienced such positive results and reviews from participants from our first year of All In For Social Capital, today CIS-Charlotte is more committed than ever to developing enhanced opportunities for social capital exchange – events and activities that are strategically designed to benefit all participants, both students and community members.
Become a Social Capital Investor
Social Capital exchange comes in many forms:
Job Shadows
Internships
Mock Interviews
College Essay Workshops
If you would like to know more and how you or your company can be a Social Capital Investor with CIS and our students, please complete this Social Capital Investor Form.
Related Links