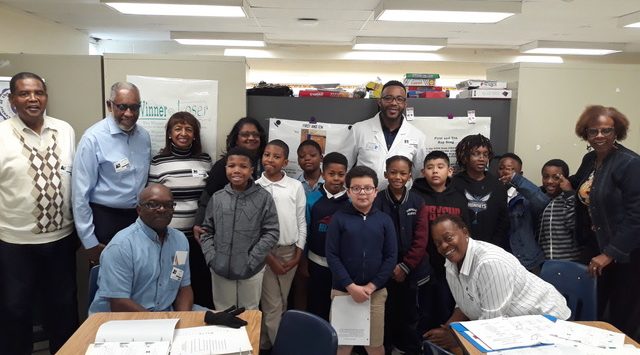 Whether you are a football fan or not, you can't help but be a fan of the "First and Ten Team Mentoring" group that volunteers through CIS at Bruns Avenue Elementary! Since 2018, this group of six volunteers, led by Oliver and Anita Spencer, have mentored a group of fourth grade boys enrolled in CIS at Bruns. And the kids love it!
Karen Neal, CIS Site Coordinator at Bruns, is definitely a fan. "This group is amazing," said Neal. "They are so dedicated and supportive of our students. Even during COVID, they remained committed and amended their plans and program curriculum so we could keep it going on Zoom this past year."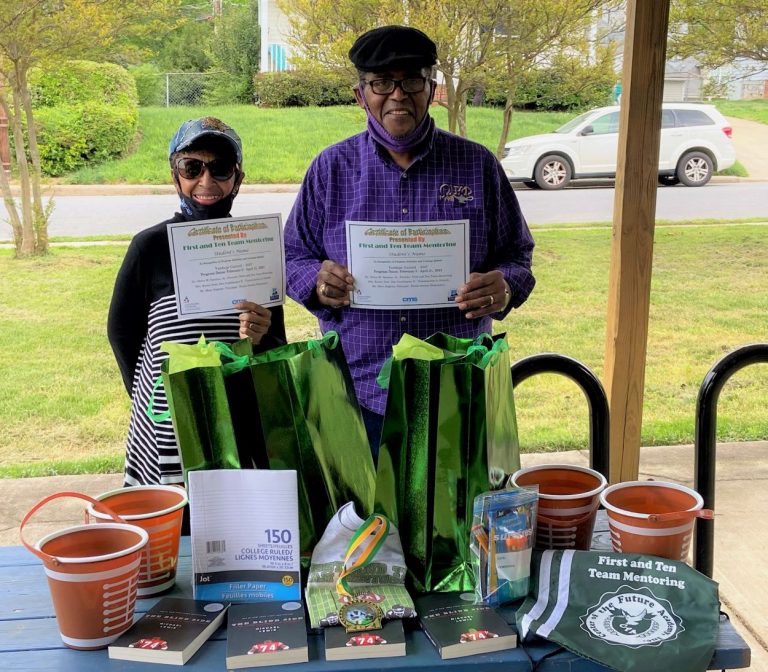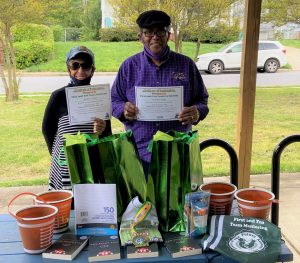 Dr. Oliver Spencer, and his wife Anita, the co-founders of First and Ten Team Mentoring, both have a passion for education and working with young people. Dr. Spencer is a retired school superintendent with over 45 years of experience in education, and Mrs. Spencer is also a retired educator with 40+ years of experience. Before he pursued his career in education, Dr. Spencer played football in high school, college, and professionally – which influenced his "First and Ten Team" mentoring theme and concept.
Students who participate in the First and Ten Team Mentoring program gain "yardage" points for their progress in the areas of Citizenship, Attendance, Academic Improvement, Attitude, Responsibility, and Community Service. Literacy and reading are also emphasized. Students earn points for completing Reading At Home (RAH) or Reading At School (RAS) worksheets. When certain goals are met by earning yardage and points, the students receive small rewards, such as a gift card, a book, a t-shirt, or other small gifts.
"We feel that our First and Ten Mentoring program aligns so well with the CIS mission," said Dr. Spencer. "Our program's mission is to encourage positive self-motivation among African-American males and other students of color, with emphasis on them staying in school and graduating. One of our primary goals is to reverse the 'school to prison pipeline.'"
"I know their efforts are making a difference," said Neal. "I see improvement in my students' academics, engagement in class, and in their behavior. My fourth grade scholars really look forward to First and Ten's weekly visits. They are learning and reading more, all while having fun and building confidence."
While the group forged ahead this past year to provide a virtual version of the program, they are looking forward to being "in person" again this fall.
"There's nothing like being with the students in person and seeing their excitement and joy as they complete objectives and earn points," said Mrs. Spencer. "As excited as the scholars are, it is just as exciting and rewarding to each of us as their mentors."
Mrs. Neal said that she, too, is looking forward to having the First and Ten Team back in the school building.
"I'm as excited for the program to start again as the kids are," Neal said. "We will be ready and waiting for them to get that first down!"