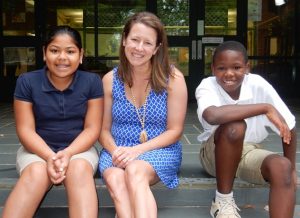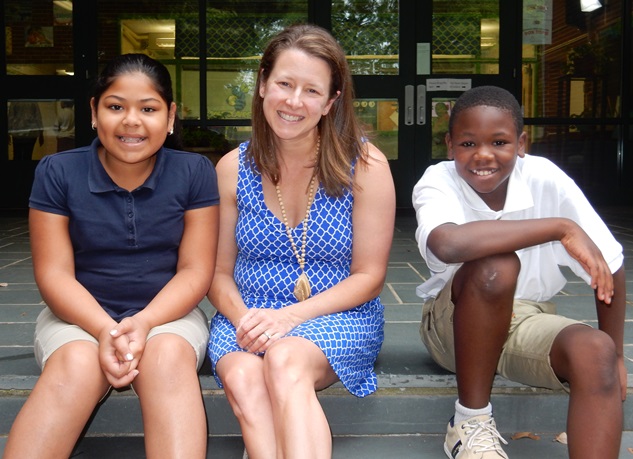 Ellen Harris began volunteering at Montclaire Elementary 10 years ago, through her church, Selwyn Avenue Presbyterian, which has had a longtime partnership with the school. Harris, a former teacher who "retired" to care for her small children at home, has volunteered in a variety of ways at Montclaire. Then two years ago, when the CIS Site Coordinator at Montclaire was looking for someone to launch a literacy club, Harris offered to lead it. She began meeting weekly with a group of third graders, and with Harris' personal passion for poetry, the group soon evolved into Montclaire's Poetry Club! This year is the third year for the club, and many of the students who first participated two years ago are still participating today.
The kids seem to love it. "We get to act out the poems and read in different voices," said DeCarlos. "We learn vocabulary words, too, like 'stanza,'" said Angie, another student. "I didn't know what that word meant, but now I do."
"There's a lot you can do with a great poem and a group of kids," said Harris. "We read it, perform it, discuss it, and compare it with other poems we've read. We always run out of time!"
Harris explained that many of the kids at Montclaire are ESL (English as a Second Language) students, and in third grade in particular, several were still learning to read. "A poem is a very manageable piece of literature that builds vocabulary and connects people across time and culture," said Harris. "I like to challenge them with the poems we read together, and they amaze me with their insights."
Harris shared that, growing up, she learned from her family that being part of a community meant investing in all of the community's children. "My mother and grandmother both volunteered regularly in the schools, said Harris. "So today I volunteer because I want to give my time to students who might not have the enrichment opportunities I expect for my own children."
Interested in volunteer opportunities with CIS students?  Contact us at volunteer@cischarlotte.org.