Class of 2021
Harding University High School
"Efuru The Guru"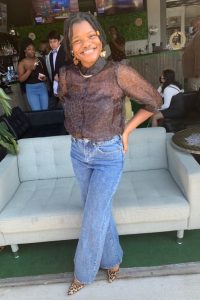 Efuru Cole-Brewer is known amongst her peers as "Efuru the Guru" because she is so knowledgeable about so many things – she is their "go-to person" when needing advice. Others describe Efuru as creative, intelligent, and just an all-around impressive person.
According to Brandy Whitaker, Efuru's CIS Site Coordinator at Harding University High School, Efuru dances to the beat of her own drum, and that's why so many people are attracted to her.
"Efuru wants everyone to do and be their best," said Whitaker. She is very solution driven. She is truly interested in making the world a better place."  
In turn, while Efuru seems to have wisdom and insight beyond her young age, she credits CIS for giving her opportunities to develop and grow her natural leadership gifts.
"CIS has been a guiding resource in my high school education," said Efuru. "During my 9th and 10th grade years, CIS helped me build organization, facilitation and leadership skills through various programs. I took part in their college field trips, gained meaningful connections through social capital, I was a student ambassador, took part in an "Express Yourself" program, and was secretary of an interactive club."
Becoming A Difference Maker
Then in her junior year at Harding, she was selected to participate in an intensive two-year intergenerational leadership program called "Difference Makers," led by CIS and comprised of 20 adult community leaders and 20 CIS high school students. The program really resonated with Efuru, as it encouraged students to lead and participate on an equal footing with the adult participants.
"CIS put me in a position where I could make the choice to succeed," said Efuru. "They put me in the room – and left it up to me to sit."
Jon Davis, a CIS-Charlotte board member, met Efuru two years ago when they both joined the inaugural class of the Difference Makers program. They have formed a close friendship through several different individual and group projects together.
"Efuru is a remarkable leader and continues to give me hope for what we are capable of as a city and country," said Jon. "She regularly stands up for the rights of students with lesser-heard voices and uses her influence to ensure that all around her have the resources they need to be successful."  
"I have even asked her to coach me on some challenges I've had with my well-being, and to see how I can tap more into my own leadership voice like she does so effortlessly," Jon added. "Almost every time we speak, I am left with some kind of 'wow' moment and I feel ready to take on a new challenge."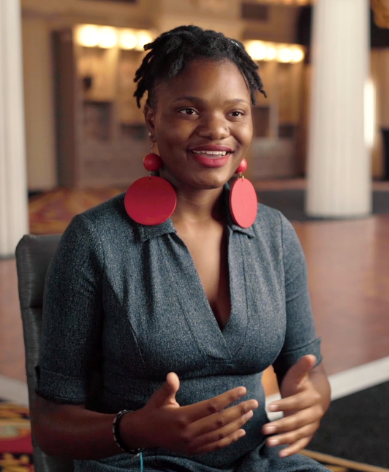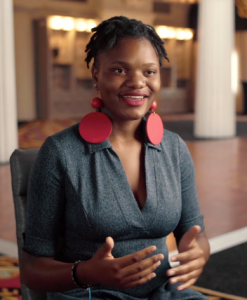 When asked about her goals and dreams for the future, Efuru said, "My goals and dreams are simple. My goal is to shift the global focus to 'human evolution through love.' My dream is that people will recognize their own greatness and start listening to understand others. We want to pin the symptoms on the root cause. The root cause is self-unawareness." 
Beginning to get the picture of "Efuru the Guru" and why everyone is drawn to her? She is going to help you become your very best self.
Going Global
Efuru is excited to take the next steps in achieving her goals:  she is headed to Spain this fall to attend IE University in Madrid.  As an international school with students from more than 150 countries, Efuru believes IEU will help her gain that worldwide perspective. Through the University's online communities, she has already met people (virtually) from India, Jordan, Africa, and more.
Efuru plans to study Communications and Digital Design at IEU, which she believes are the building blocks to human interaction. "Studying communications, if leveraged correctly, will teach me how to appeal, persuade, influence and actively listen to people," she said.
It seems to us that Efuru already has these skills in spades, but perhaps in Spain she'll be in a better position to share them with the world, just as she envisions. Efuru the Guru is on her way!