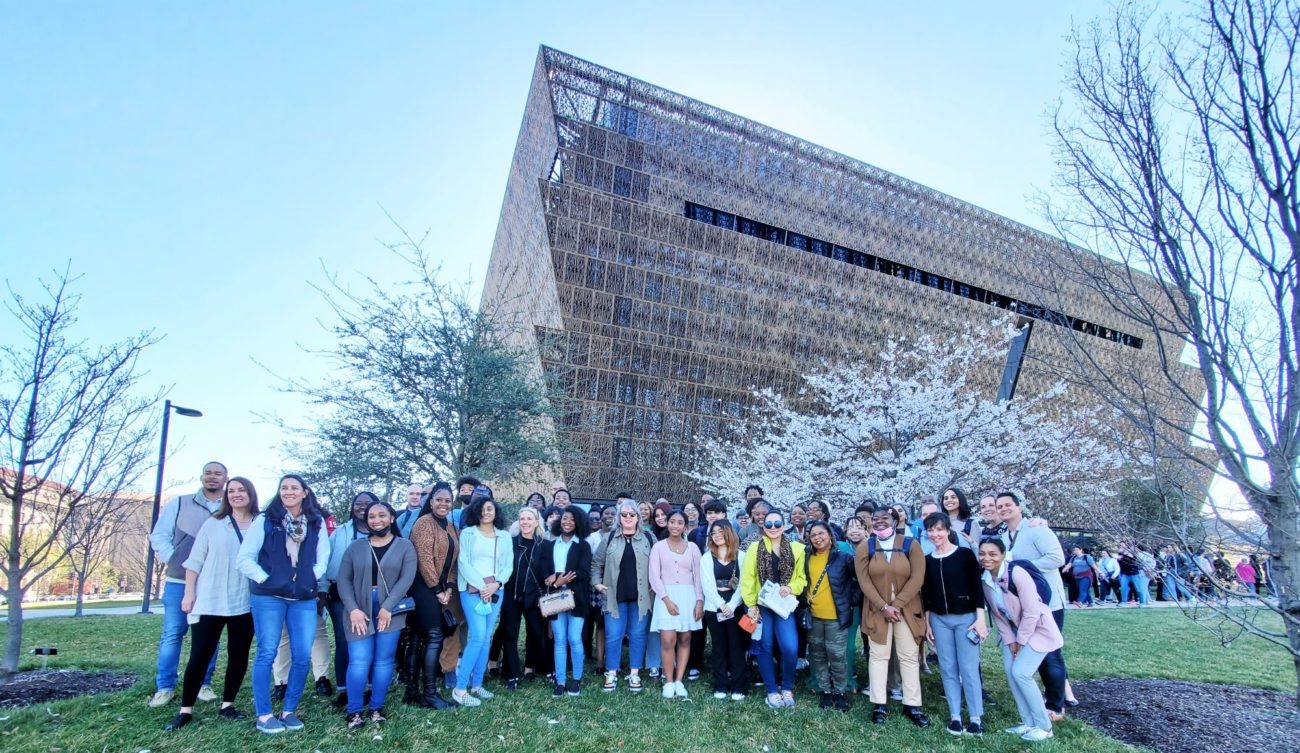 Difference Makers® CLT Program Re-ignites with Trip to Washington, D.C. in March 2022
It was an exciting time for the group of 58 CIS students, community members, CIS staff and Gambrell Foundation staff gathered in the early morning hours of March 24 at Charlotte Douglas International Airport. In fact, "exciting" might be an understatement! The group was preparing to travel to Washington, D.C. for  a three-day adventure as part of the 2022 Difference Makers® CLT program.  After the pandemic postponed this special trip and hallmark of the Difference Makers® program for two years, it was especially thrilling to see it "take flight" – literally – once more.
Initially launched in 2019 as a collaboration between The Gambrell Foundation and Communities In Schools, Difference Makers® CLT is a leadership development program for CIS students and community members. The goal is to increase all participants' understandings of social capital and create spaces for meaningful exchanges. 
This year's trip included a visit to the Smithsonian's National Museum of African American History & Culture, a big red bus tour of the D.C. sights, evening walking tours of the Mall, group dinners with special guests, and so much more. Although there were many planned activities, an intentional piece of the program agenda is to leave space for "the magic to happen." And that was certainly the case this year. Students and community members bonded quickly and deeply while taking in the sights, sounds and history of our nation's capital. Knowledge, power, encouragement and wisdom were shared by all and the impact was abundant. The group openly discussed what is means to be a "Difference Maker" and how they would bring their learnings back to Charlotte.
E. J. Carr, a junior from Independence High School, says the trip changed his perspective on his role in helping make the world a better place. "The trip was definitely impactful, and the conversations I had were so empowering and deep," said E. J. "When we were at the Lincoln Memorial, my group had a powerful conversation about being your true and authentic self, like being able to wear your hair and skin how you want to… Like knowing who you are and being who you are without being judged."
The group will be coming together again in May to continue mapping out plans for the future of this year's amazing cohort. And more good news:  a new cohort and a second Difference Makers® CLT trip is planned for August 2022, thanks to the Gambrell Foundation!  Communities In Schools extends a heartfelt "Thank You" to the Gambrell Foundation for their vision around this initiative and their generous support to make it possible.