Olympic High School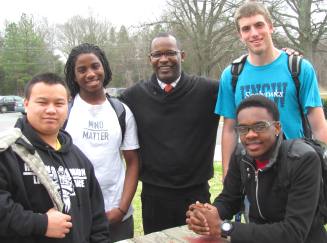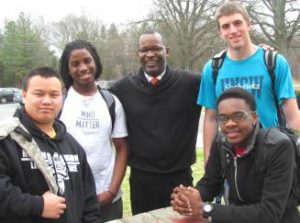 CIS students at Olympic High School have a treasure in CIS volunteer Colin Pinkney, but then, they already know that! CIS is sharing Mr. Pinkney's story in the hope that others will step up and consider volunteering as a mentor for our students. The role of a mentor is not for everyone, and it can also take many forms; Mr. Pinkney's approach is just one way. But he will tell you that, once involved, it is more than fulfilling.
Mr. Pinkney met CIS Site Coordinator Tawanda Sain-Redd at West Charlotte High School eight years ago. He mentored students through CIS at West Charlotte for three years; then began mentoring students at Olympic High School when Ms. Sain-Redd became Site Coordinator there. At Olympic, Mr. Pinkney developed a group mentoring program centered around a book club for male students. Twenty students meet weekly as a group with Mr. Pinkney to discuss the book they are reading (currently, Night by Elie Wiesel). They also use this time to work on "emotional intelligence" skills and targeted personal skills such as self-awareness, self-management, and relationship management – in short, to provide opportunities for personal social/emotional growth and how to apply to "real life" situations.
When asked why he volunteers, Mr. Pinkney gave this response: "There are two main reasons that I volunteer. First, I believe that young men hold the key to a better future for our homes and communities. Although I grew up without my biological father, I was blessed to have caring adults throughout my life who filled critical roles as mentors, teachers, coaches and friends. A dear friend, Claude Lee, helped me understand this the most: as I began to achieve success in my business career, he helped me understand that as a successful black man, I had an obligation to help other young men become at least as successful as I had been. He is still my role model. Secondly, I am a father and husband and I volunteer as an investment in my family and in my children especially. I want the best for them and I understand that to provide that, I have to impact their world and their peers."
Mr. Pinkney said the "best part" of being a volunteer is "experiencing the mutual respect that has grown between me and the young men. I imagine that it is something that will shape how they relate to others in the school and the community and that would be a good thing. The young men encourage me with their participation and because of them, I have hope for the future. They are and will be great leaders!"
"I'm also grateful," he added, "for the boundless support of Ms. Sain Redd and the staff of Olympic High School for entrusting this valuable resource of young men to me. I am especially grateful to all of the young men in the book club who receive me and allow me access into their world. I have learned so much from each of them. Let's keep going!"
Colin Pinkney is executive director of The Urban Restoration, a local nonprofit providing an array of evangelistic, educational, athletic, counseling, and social services to Charlotte's poorest inner city children and families. He is also a husband and father to six children ranging in age from 5th grade to college. You may contact him at cpinkney@urbanrestoration.org.