All In For Kids Luncheon – August 17, 2023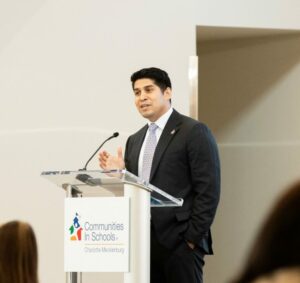 On August 17, CIS-Charlotte hosted Rey Saldaña, our National President, for his first visit to our city. Saldaña was the keynote speaker for our All In For Kids luncheon fundraiser. During his visit, he met with city leaders, staff, and conducted several media interviews, including this interview with Queen City News TV.
Saldaña's remarks at the luncheon, held at The Revelry in Camp North End, centered on the importance of educational equity, and how CIS is leading a national movement to re-think education and what is needed to engage and support young people today. Excerpts from Saldaña's remarks are below:
"CIS believes that education is the great equalizer, and we believe that if we give the resources and the support, that all kids can succeed," said Saldaña.  "But we shouldn't think of education only as 'escaping poverty'  – we should think of education as 'strengthening communities.'"
"Communities In Schools has the privilege of working inside schools, and there aren't many nonprofits that get that privilege," Saldaña added. "We get to work with young people who have great potential and a fire in their belly to want to give back to their community." 
"We also get to be part of a movement that is happening right now across the country, one where we are re-thinking what school can and should be, especially for the students that get left behind. It isn't just about math scores and reading scores, it is really about creating a place of belonging for many of our young people."
"Three years past the pandemic, one of the biggest things we lost inside schools was relationships – relationships with our young people, with their friends, with teachers. Finding a caring adult is harder and more necessary than it ever has been, and that is the business Communities In Schools is in – building relationships and strengthening communities."
Ballmer Group Investment
Saldaña also shared the exciting news of an unprecedented gift to the Communities In Schools national office:  The Ballmer Group has committed to invest up to $165 million in CIS, the single largest philanthropic gift in Communities In Schools' 45-year history.  The investment will help CIS accelerate its goal to expand into 1,000 new "Title I-eligible" schools (majority low income) across the country over the next five years. CIS-Charlotte is participating in the initiative and will receive funding (which requires a 1:1 match from the affiliate) to grow into five new Title I schools in Charlotte-Mecklenburg Schools over the next five years. Read more about the Ballmer Group's investment in Communities In Schools.
All In For Kids Photo Gallery
View a photo gallery of the All In For Kids Luncheon.