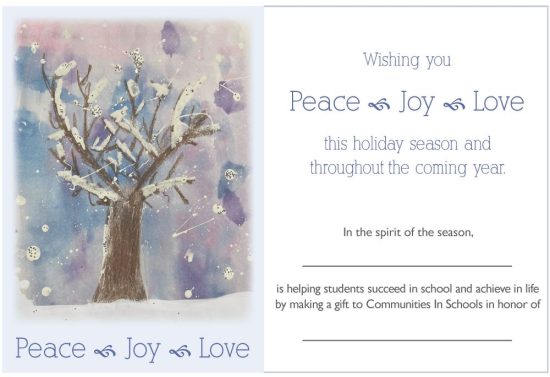 Artwork by a CIS student from Winterfield Elementary School
Thank you for including Communities In Schools in your holiday giving by supporting our holiday campaign. From now through December 11, you may purchase our Holiday Cards in honor or in memory of family, friends or colleagues. We will send a card (sample above, with artwork by a CIS student) notifying them of your gift.  Or we invite you to simply make a donation.
Your Donation or Purchase of Cards Supports Students
There is a troubling trend of increased need in our school district. Now more than half of CMS schools (102 of 184) are designated Title I, which means the majority of students live near or below the poverty line. Research shows that students living in poverty face more barriers which negatively affect their attendance and academic performance. CIS currently serves 56 schools in CMS, 43 of which are Title I. As you can see, with 102 Title I schools, the need is great.
CIS places professional staff – our Site Coordinators – inside CMS high-needs and Title I schools to provide a network of support and resources to help students succeed in school and in life. We work to ensure that students in under-resourced schools have equitable school experiences and opportunities to thrive and reach their full potential. Thank you for caring about our community's children by supporting CIS through our holiday campaign. Your gift helps bring a community of support to the students who need it most.
Here's How Your Gift Can Make A Difference
$50       Nutritious food and snacks for three students
$125     Clothing and hygiene items for four students.

$250     College access, career-readiness, and social capital activities for six students.
$500     Academic support and enrichment for 10 students.
$1500   Individualized case management for one student for the full academic year.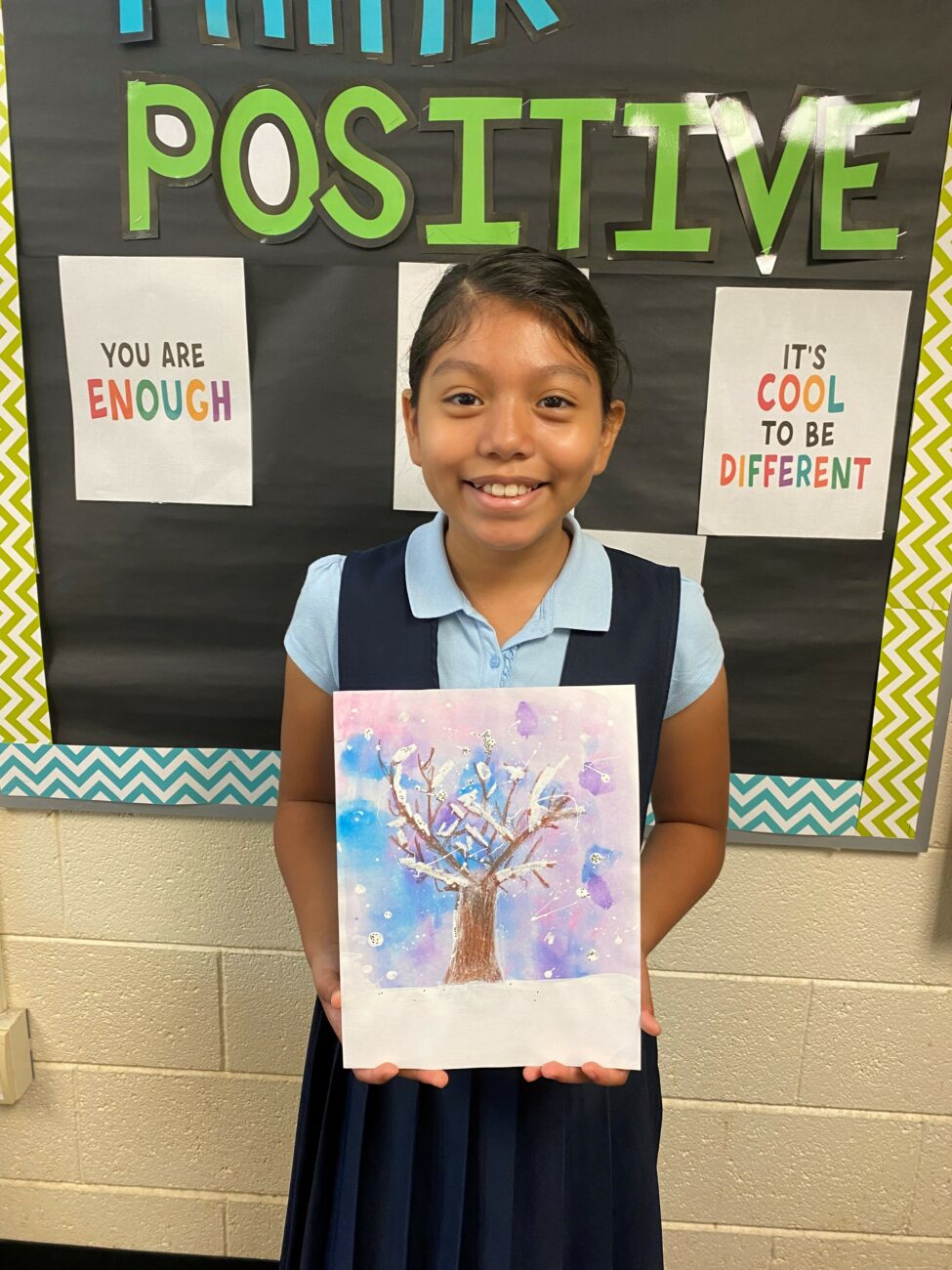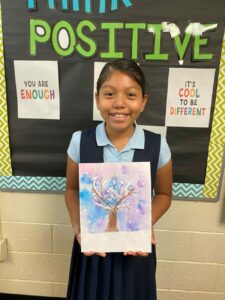 Meet the Artist!
We are pleased to introduce Monserrat, our talented artist of this year's holiday card. Monserrat is 10 years old and in the 5th grade at Winterfield Elementary. Monserrat used watercolor paint, crayons, and glitter in her artwork.
Monserrat loves creating art and says it is also a great stress-reliever for her. "Drawing and painting relaxes me and calms me down," she said.
Monserrat's favorite subject in school (besides art!) is math, and she also loves to read. She is excited about participating in a new book club that her CIS Site Coordinator is starting at Winterfield. We are proud of Monserrat and wish her a wonderful school year filled with art, reading, and math!
(Suggested donation is $15 minimum per card)