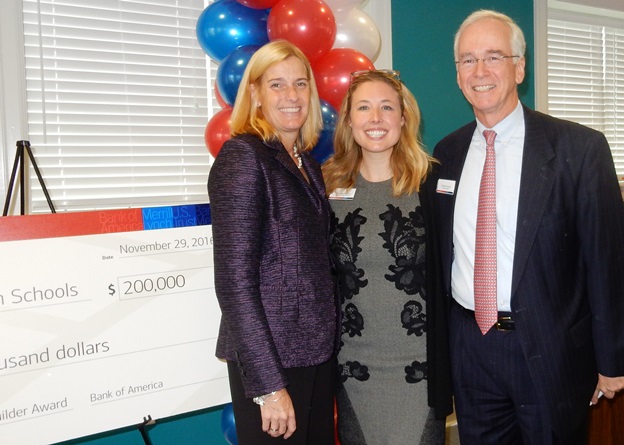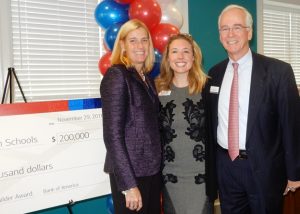 Exciting news! CIS-Charlotte has been awarded a Bank of America "Neighborhood Builders" grant! As part of "Giving Tuesday" on November 29, 2016, Bank of America announced it is donating nearly $1.1 million to 17 Charlotte area nonprofits focused on community development and basic needs for families. CIS and Renaissance West Community Initiative (RWCI) were named "Neighborhood Builders" partners and will receive $200,000 each over the next two years, as well as opportunities for staff professional development. Other agencies receiving grants include:
A Way Home Housing Endowment
Ada Jenkins Center
Charlotte Rescue Mission
Charlotte-Mecklenburg Housing Partnership
Community Link
Crisis Assistance Ministry
Hope Haven
Men's Shelter of Charlotte
NC Housing Coalition
Second Harvest Food Bank
Supportive Housing Communities
The Affordable Housing Group of NC
The Salvation Army
United Way of York County
YWCA Central Carolinas
Communities In Schools (Neighborhood Builders)
Renaissance West Community Initiative (Neighborhood Builders)
From Bank of America's Press Release:
Background
In a recent Harvard University study, Charlotte was ranked last among the 50 largest U.S. cities for upward mobility. Research shows that people living in concentrated areas of poverty often lack quality housing options, which in turn creates unequal access to basic resources and quality education. This has historically been the case in some areas of our city. By supporting community development and basic needs through its Neighborhood Builders partners and other Charlotte nonprofits, Bank of America hopes to help jump start the local economy and ultimately put individuals, including young people, on paths to success.
What is Neighborhood Builders?
"Neighborhood Builders" is an important part of Bank of America's efforts to build thriving communities by addressing issues fundamental to economic mobility. Through the program, two nonprofits are selected to receive leadership development for the executive director and emerging leader as well as $200,000 in flexible funding. Since 2004, the alumni network of Bank of America's "Neighborhood Builders" has grown to more than 900 nonprofit organizations across the country and nearly 2,000 nonprofit leaders through the Bank's investment of more than $180 million.