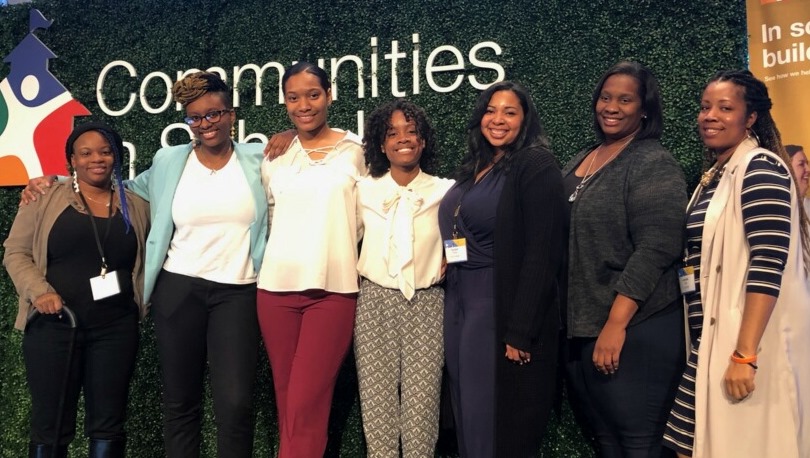 CIS-Charlotte is excited to share that we had THREE winning entries in the first-ever "CIS Student Innovation Challenge," sponsored by CIS National. CIS Site Coordinators from across the CIS network were encouraged to engage their high school students to generate innovative ideas and solutions to topics that impact them. CIS-Charlotte Site Coordinator LaKendra Phifer took the challenge to heart and ultimately led three teams (14 students total) at Vance High School to come up with creative ideas and enter the contest. Fourteen entries from across the country were reviewed as finalists, with four chosen as winners – three of them from Charlotte!
The winning entries were invited to send a student representative from their team(s) to present their projects at the CIS National Student Support Institute (#SSI2019) conference February 5-7 in Reno, Nevada. With three winning entries, three students from Vance were selected to attend and present on behalf of their teams, including seniors Khamiah Alderman, Nelani Faatiliga, and Unique Patton. Phifer and the students' mothers were also invited, with all accommodations covered by CIS National. Phifer said it was an amazing opportunity for the students, including the travel, presentation and public speaking experience to an audience of 200+ adults, and the chance to meet and network with CIS National board and staff, including CIS National Board Chairman, Elaine Wynn.
CONGRATULATIONS to Kendra Phifer and these outstanding students! Here are the three wining ideas from our CIS students at Vance High School:
Peer Keepers focused on improving attendance at school, with the idea to collaborate with the app, Life360, to create school maps where students can "check in" on the app. Students would be able to send messages to encourage and uplift one another to ultimately improve attendance.
Dream Catchers is the idea to create a student workbook/planner with information, resources and a check-list to help high school students get "college-and-career ready."
STAR (Students Teaching Aforementioned Resources) is the idea to develop an app that connects students to resources at the school level and in the community to increase student engagement. Connections would be made to individual contacts who would respond personally to provide the information to the student(s).