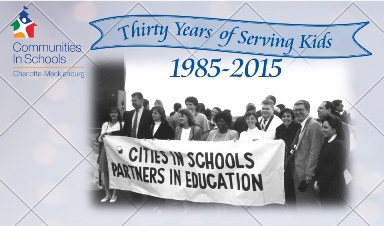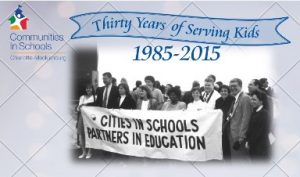 In December, CIS-Charlotte celebrated 30 years of serving students in our community! A luncheon was held for staff, Board members, and former executive directors to mark the December 17, 1985 date when CIS-Charlotte was chartered. Since the 1985-86 school year when CIS enrolled its first students at J.T. Williams Junior High, CIS has impacted the lives of tens of thousands of students in Charlotte-Mecklenburg, helping them succeed in school, graduate, and achieve in life. Today the agency serves 6,000 students annually in 42 CMS schools, plus youthful offenders at Jail North/Central.
In a surprise presentation during the event, CMS Superintendent Ann Clark received Communities In Schools' special DreamMaker Award, which the agency has historically given to local community leaders who have demonstrated an extraordinary contribution to the education and welfare of children.
Below are remarks made at the event by CIS-Charlotte Executive Director Molly Shaw regarding the 30th anniversary milestone:
"30 years = 10,950 days.
10,950 days of pouring hope and love into kids; 10,950 days of connecting services and people to students and families; 10,950 days of conversations – some of them motivational and inspiring, some celebratory, others direct or tough – all of them in an effort to move our children forward.
10,950 days of meeting with students, talking to families, coordinating resources, managing volunteers, connecting partners, planning workshops, traveling to dentist and doctor's offices, arranging field trips, visiting homes, visiting colleges, navigating schools, motivating kids, and documenting our work.
10,950 days of bringing the community into our schools and connecting our schools to the greater community.
And those are just a few – the list could go on, because for the last 10,950 days, Communities In schools – YOU – have been not only working, but fighting for our kids.
That fighting has required soldiers – people who believe so strongly in the cause that they dedicate their lives, their own days to the mission. It takes a village to raise a child; it takes a community. YOU are that Community. Each of You is the Community in Communities In Schools. Please take a moment to recognize all that everyone in the room has accomplished for our children."
Remarks by Molly Shaw, CIS-Charlotte Executive Director
December 14, 2015