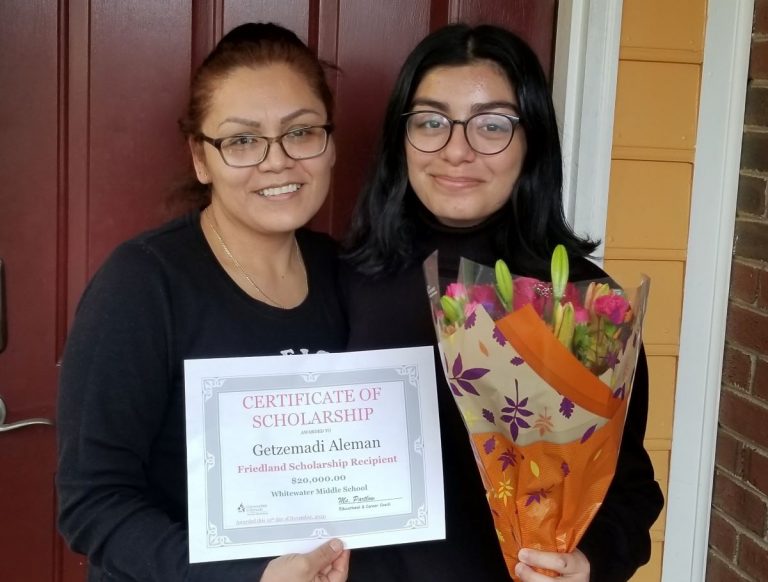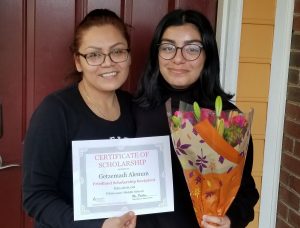 We are so proud of Getzemadi Aleman, an 8th grader at Whitewater Middle School! Getzemadi has won a Friedland Scholarship, which includes $20,000 towards a state school within N.C., as well as a professional mentor to support her with academic guidance and preparing for college from now through high school graduation. 
Only four Friedland Scholarships are awarded each year among 8th graders across the CMS district, and CIS is given one of those slots. 
"We received 20 applicants just here at CIS," said Andreia Graddick, CIS Community Engagement Associate who led the review process for CIS. "We narrowed the field to three students for personal interviews, and ultimately selected Getzemadi as the student put forth in the larger pool of applicants across the district."
"We thoroughly enjoyed getting to know Getzemadi during this process and look forward to hearing about the amazing things she accomplishes," added Graddick.
Tonya Beckett, Getzemadi's 7th grade science teacher at Whitewater, wrote a recommendation letter for the application. Her observations give you a glimpse of Getzemadi's love of learning and her great potential.
"Right away Getzemadi stood out to me in class, as she was quickly able to grasp science concepts and engage in thoughtful discussion," said Beckett. "She was skilled at being able to apply our science Earth System standards to real life conservation and environmental sustainability and how they impact everyday life, which is our focus for our E-STEM Magnet program."
"Getzemadi would tackle our research projects with passion and creativity, producing the most engaging and eye-opening projects that other students and classes would inquire about, completely impressed," added Beckett.  "Getzemadi has also been an active participant and one of the highest-scoring students in the class, but she always took time to help students around her who struggled."
In her essay required for the application, Getzemadi described herself as a "13-year-old who loves every subject in school, loves to watch detective shows and write.  I find peace in books and painting. It helps me to have an idea for a book. I never want to stop learning. I want to explore the world. I wish to attend college for education that could change my life." 
When asked to share more about why she wants to attend college, here's what Getzemadi had to say:
"I wish to attend college to get the education I need.  College is where you learn and get prepared to go out into the real world. It's where you get the education you need for the dream job you want. I believe that education is the key to success. You never stop learning, even if you graduate from school. In college, you meet people from everywhere. You meet people, the right ones, whom you'll be calling your friends for a lifetime. I wish to attend college to follow my dreams. To get closer to seeing the real world."
Perhaps Getzemadi's CIS Site Coordinator, Diana Partlow, who has worked with Getzemadi for several years and encouraged her to apply for the scholarship, summed it up best:
"Getzemadi is a joy to work with!" said Partlow. "She is a wonderful, thoughtful, respectful, intelligent, responsible, focused and delightful young lady. She is so deserving of this opportunity."