Impacting Students through Social Capital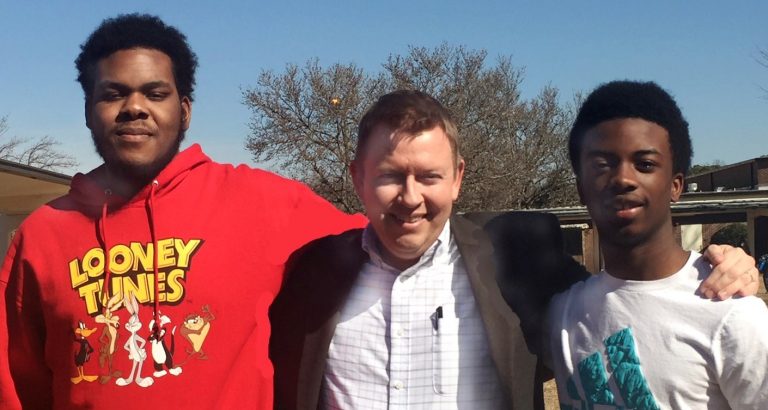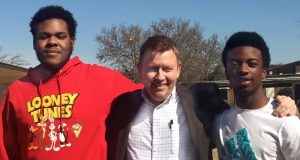 Spend just 30 minutes with Chad Lloyd and one will quickly see that he is a man on a mission. His enthusiasm and passion fuel the conversation. Chad says he feels compelled to share with others all the grace that has been shown to him over the years, and based upon his past endeavors, he appears to be well on his way. He's done mission work in El Salvador and Rwanda with Living Water International and will soon be traveling to Haiti with the organization, and he serves on the Global Impact committee at his church, Matthews United Methodist. Fortunately for Communities In Schools, Chad is currently focusing much of his energy and attention on CIS students at Harding University High School.
Connecting
Chad first learned about Communities In Schools through Boris Henderson, whom Chad has known through business connections and as a fellow Davidson College alumnus. Boris is a CIS-Charlotte graduate who later served several terms on the CIS Board of Directors. Boris connected Chad to CIS-Charlotte and Chad was soon signed up to mentor three young men – Dante, Anthony, and Royal – at Harding University High School. Of his own accord, Chad drew up an "agreement" between them, which they all signed, basically holding them accountable to each other for participation and commitment in their relationship.
Career Building
Last year and this school year, Chad has been true to his word, meeting with the young men over lunch at school every other week. From his own resources, Chad paid for all three to take a skills and career interest assessment to help them discover their strengths and what careers might be a good fit. Chad identified two of the students' interest in engineering and CIS then arranged for them to spend a day with Atkins Engineering to learn about the various careers in the industry. Later that same day, Chad took them to a Knights game to celebrate their improved grades. In short, Chad has been a stellar example of a dependable mentor and personifies what "social capital" is all about.
Rotary and Interact
Chad's latest project with his mentees is growing to involve more students at Harding. This past summer, Chad encouraged his mentees to apply for a leadership summer camp at Davidson College. It was an amazing experience for Dante and Anthony, who were able to attend. Chad saw Dante overcome his shyness and build confidence. He saw Anthony hone his natural leadership abilities. In fact, it was at the summer camp where Anthony learned about Rotary International and how Rotary works to build membership by establishing Interact service clubs at the high school level. Anthony was pumped about the idea of initiating an Interact Club at Harding, and broached the idea with Chad. Seven months later, Harding has just received its official charter for its first student-run Interact Club, with Anthony serving as president, Royal as vice president, and more than 40 students as club members. Members recently voted to support hurricane relief efforts in Puerto Rico as their first service project.
Widening the Net
Chad, who works in land acquisition with MI Homes, says he sees great potential in what the Charlotte professional community can really do to impact young lives. "I'm in real estate, and I'm paid to be an optimist," said Chad. "I see a tremendous amount of opportunity in this town and in this state." He is excited to "widen the net" and get other individuals and companies involved at Harding and other schools. He's already made headway through the Interact Club by connecting Red Ventures CEO Rick Elias to help with the hurricane relief project. This past weekend, Chad and a group of Interact Club members – with videography help from a friend of Chad's who's in marketing with United Way in Asheville – began production on a video to promote the hurricane relief project. All of the students are learning new skills, making connections in the community, and receiving exposure to new experiences.
Towards the end of the interview for this article, Chad mentioned his "mantra" and what drives him – this quote from the Reverend Dr. Martin Luther King, Jr.:
"To serve, you only need a heart full of grace and a soul generated by love."
Clearly Chad has taken Dr. King's quotation to heart. CIS is grateful for his service.