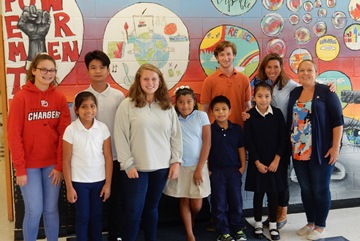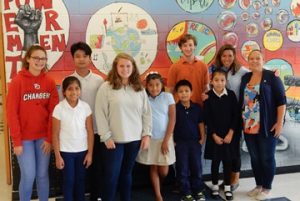 Walking the halls of Winterfield Elementary in east Charlotte, two things stand out: the amazing ethnic and cultural diversity of the students, and the colorful, inspiring artwork on the walls. One mural in particular – the one just outside the gymnasium – commands attention. This particular mural is special, as it was the brainchild and result of two school communities coming together to find common ground and learn from each other.
Two years ago, Providence Day School (PDS) student Grant Abrams, then a high school sophomore, was driving across town when he was struck by the great disparity in socioeconomic status he was seeing from one neighborhood to the next. Grant lives and goes to school in southeast Charlotte, yet a 15 minute car ride across town felt worlds away. He began brainstorming how he could bring two different areas of Charlotte together as a way to foster understanding and connections that would benefit everyone.
Grant shared his ideas with Kelly Brooks, a PDS parent and founder of SHARE Charlotte, and she suggested that he meet with Sarah Shifflet, CIS-Charlotte's Director of Resource Development. Shifflet shared information with Grant about Communities In Schools and several other nonprofits that might be interested in working with him to bring his ideas to fruition.
Grant and Ms. Shifflet met with Eric Hedinger, the Head of Upper School at PDS, who fully supported Grant's desire to bring private school and public school students together to help build relationships and community. With input from CIS program staff, Winterfield Elementary rose to the top as a great "reciprocal" match to form a mutually beneficial partnership with Providence Day.
"It was important to build a partnership together that benefi ted both schools," Grant said. "We are not simply coming in and 'giving' to Winterfield – we wanted it to be a two-way street. Each school has something to offer and should have a positive impact on the other."
Last year, during the first year of the partnership, about 75-100 PDS students were involved at Winterfield in one way or another. They held soccer clinics (completely full with Winterfield students and parents!) participated in Spanish "conversation hours," tutored Winterfield Youth Orchestra students, conceived and painted beautiful murals together, and the entire Winterfield 5th grade visited PDS to experience their Alice in Wonderland theatre production.
Anna Kennington, CIS Site Coordinator at Winterfield, says she is already seeing evidence of Grant's original vision of building bridges between their two diverse communities. "Winterfield is thrilled about the partnership and we're excited to see how it will develop and grow this year," said Kennington.
"Everyone at Winterfield and CIS has been so supportive," added Grant. "From the minute we started working with them, every teacher has been willing to get involved, and the administration, including Principal Grant [Winterfield's Principal Angela Grant], is incredibly enthusiastic and dedicated to making this happen. It's working out even better than I had envisioned."