Wishing you Joy & Peace this holiday season that is a reflection of the best our community can be. 
Click here to order cards or make a donation!
7″ x 5″ Folded Card
Artwork by CIS students from Winterfield Elementary


Order Cards now through Dec. 13 or make a donation any time
As we approach the holiday season, let us be reminded that our strength lies in our ability to work together to create a better future for all children. Progress has been made while challenges remain regarding the complex issues facing our community and many of its children. Let's seize this moment, and together we can be a catalyst for change, creating a community which reflects the hope and opportunity we desire for all children.
Every day, Communities In Schools works to be that change in students' lives. Our system of support provides targeted case-management services, as well as connects critical community resources to under-resourced students in grades PK-12 at 46 Charlotte-Mecklenburg Schools. Our core services include promoting attendance, academic support, fulfilling basic needs, and providing opportunities for cultural, educational, and social enrichment.  Most importantly, our Site Coordinators help over 6,000 students here in our city to navigate their lives. They are there for the good and the bad, the highs and the lows. Our incredible team is charged with helping each student discover their strengths and realize their greatest potential.
You can help our students this holiday and throughout the coming year by making a donation or purchasing our holiday cards in honor or in memory of family, friends, and colleagues. We greatly appreciate donations of any size, but we ask for a $10 minimum per card donation (for cards sent on your behalf in honor or in memory of others); however, there is also an option on the Order Form to make a donation only and elect not to send cards.
About the Card Design – Mexican Folk Art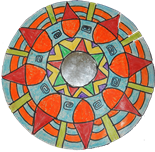 Communities In Schools students at Winterfield Elementary created the artwork on this card in celebration of Hispanic Heritage Month. With guidance from art teacher Kristen Eatman, students learned how shape, color, and space can be used to create a pleasing composition through design principles such as pattern, variety, balance, and unity.  The students' designs are based on Mexican folk art that is inspired by mirrors.  The mirrors symbolize community and the expression of creating your own world.  This type of art is deeply rooted in the social, economic and cultural life of Mexico.  We remain committed to fostering in our students this beautiful sense of both unity and self-expression.