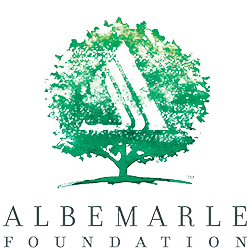 Charlotte, NC – The Albemarle Foundation has announced it will commit $100,000 to Communities In Schools of Charlotte-Mecklenburg (CIS-Charlotte) to support the agency's programming and its efforts to promote the need for and connect "social capital" to its students. As a component of this support, Albemarle Foundation has agreed to match dollar-for-dollar up to $90,000 on all donations received by CIS-Charlotte from now through June 30, 2018.
"We are thrilled with this generous gift from Albemarle and are especially excited about the matching gift commitment," said Molly Shaw, CIS-Charlotte Executive Director. "The match will allow CIS-Charlotte to leverage Albemarle's generous support to encourage gifts from others before our fiscal year end.  Most importantly, we're extremely grateful that Albemarle believes in our core mission to help every young person in our community have access to the relationships, resources, and social capital exchanges they need to reach their full potential and be prepared for their future."
A portion of the donation was designated to support CIS-Charlotte's efforts to highlight the importance of developmental relationships and "social capital" connections as a powerful tool to provide students with life-changing access and opportunities. The Albemarle Foundation was a sponsor for CIS-Charlotte's April 20 symposium, "All In For Social Capital," where more than 600 guests heard from local and national youth, research and educational leaders about the importance of developmental relationships with students and how social capital can be an agent for positive change in the community for all involved.
Luke Kissam, Chairman, President, and CEO of Albemarle Corporation, participated in the event and says the Foundation is proud to add Communities In Schools as one of its major philanthropic recipients.
"The Foundation takes seriously our commitment to the communities across the country in which our employees live and work," said Kissam. "Communities In Schools' values and mission to improve the lives of young people in Charlotte-Mecklenburg and assure that they have every resource for success at their disposal, aligns perfectly with our company values. In particular, we're excited to help Communities In Schools initiate a 'social capital movement' across the city of Charlotte, so that every company or organization can have a hand in developing Charlotte's future and the leaders of the next generation."
CIS of Charlotte-Mecklenburg is an affiliate of the national Communities In Schools network and is dedicated to keeping kids in school and helping them succeed in life. Locally, CIS-Charlotte provides case management services to 6,400+ students annually in 46 Charlotte-Mecklenburg schools. An additional 27,000 students in Charlotte-Mecklenburg are supported by CIS each year through school-wide programming and volunteer-resource coordination at those same schools.
Companies or individuals interested in learning more about how they can support students through "social capital" connections or other means, can visit www.cischarlotte.org and click the "Volunteer" tab. To make a donation to support a student's future, visit www.cischarlotte.org and click on the "Donate Now" tab. Or donations may be mailed to Communities In Schools, Attn: Advancement Office, 601 E. 5th Street, Suite 300, Charlotte, NC 28202. Donations made by June 30, 2018 will be matched by The Albemarle Foundation.
# # #
About Communities In Schools
The mission of Communities In Schools (CIS) is to surround students with a community of support, empowering them to stay in school and achieve in life. Communities In Schools uses an evidence-based model, implemented by trained site coordinators, to connect students and their families to critical education and community-based resources. This involves working hand-in-hand with schools, partners, communities and families to identify students' unique needs and surround them with a caring network of support. Find out more at www.cischarlotte.org
About The Albemarle Foundation
Albemarle Corporation, headquartered in Charlotte, NC, is a global specialty chemicals company with leading positions in lithium, bromine and refining catalysts. We power the potential of companies in many of the world's largest and most critical industries, from energy and communications to transportation and electronics. Working side-by-side with our customers, we develop value-added, customized solutions that make them more competitive. Our solutions combine the finest technology and ingredients with the knowledge and know-how of our highly experienced and talented team of operators, scientists and engineers. Discovering and implementing new and better performance-based sustainable solutions is what motivates all of us. We think beyond business-as-usual to drive innovations that create lasting value. Albemarle employs approximately 5,400 people and serves customers in approximately 100 countries.
In 2007, The Albemarle Foundation was launched as a means to power the giving potential of our employees. The Foundation supports employees as they work passionately each day to make a profound impact in their communities. To date, we have granted over $28.5 million into the communities in which we live and operate. www.albemarle.com