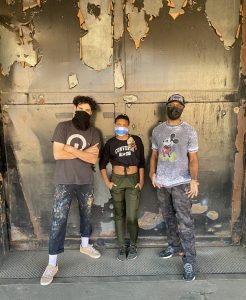 Sometimes an unexpected challenge shows us what is possible in our community.
That was the case when Charlotte artists Leon Parker, John Cheeks ("CLT Cheeks"), and CIS-Charlotte student Imani Reid, a senior at Harding University High School, were asked by the CIS Board of Directors to work together to create a piece of art as a gift for former CIS-Charlotte President and CEO, Molly Shaw. 
Even better, the process to create the artwork and the experience of those directly involved is a beautiful example of collaboration at its best and a testament to the benefits of sharing "social capital" with young people – such as our students – and in particular with those who would not ordinarily be in one's circle. 
When Board members Greg Hobby, Natalie Alston and Jon Davis brainstormed about the gift, they engaged fellow Board member David "Dae-Lee" Arrington who knew the perfect partner for the job.  He called Davita Galloway at Dupp & Swat, also a friend of Molly's and someone who would understand her love of art and collaboration.  Galloway put out a call for artists to share how they would approach the project if selected.
To hear Charlotte artist Leon Parker tell it, the whole experience was so unexpected yet so very rewarding.
"I was thrilled to be selected for the commission," said Parker, who applied through the open community call through Dupp & Swat. "But then I learned there was a twist – I would be creating the artwork in collaboration with another artist, an artist who worked in a different medium from myself and someone I did not know. I remember thinking, "Well, this could be a challenge… but I'm up for it."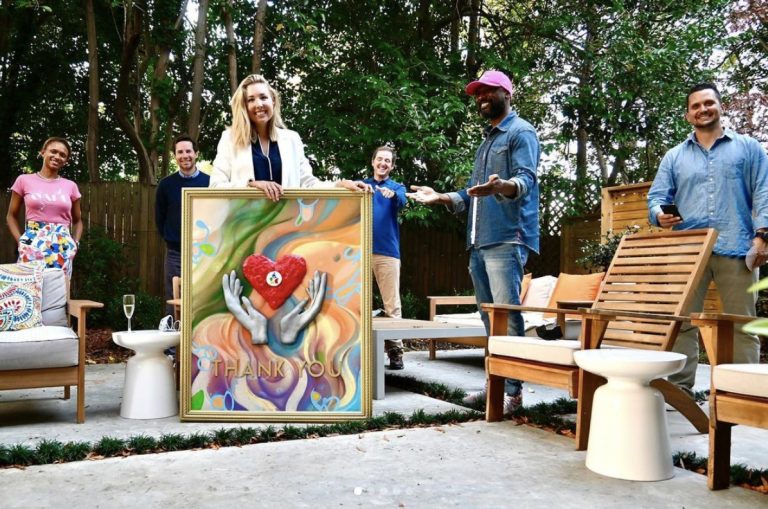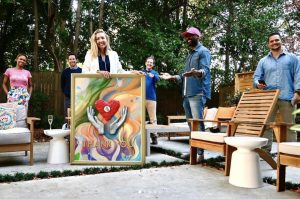 And there was more. The two selected artists, Parker, a painter and sculptor, and John Cheeks (who goes by "CLT Cheeks"), a digital artist/muralist, were asked to collaborate with a high school student. CIS board member Jon Davis felt it was important to have a CIS student be a part of this project, including being compensated along with the artists for her time and efforts. 
"At CIS, we talk a lot about relationships with students and adults being an 'exchange' where people bring out the best in each other," said Jon Davis.  "Molly and our incredible CIS staff have been champions of sharing 'social capital' and engaging with untapped student potential, so we wanted to honor her legacy in this way.  We knew having a student involved would make the project more special."
Parker admits he was rather skeptical when he first learned he would need to collaborate with another artist – and involve a high school student in the project, too. He was anxious to see how the process – and the final artwork – would turn out. 
However, Parker says his fears were unfounded. The entire experience and the resulting artwork turned out to be far better than he expected or ever could have imagined. 
"It was just incredible," said Parker. "Imani blew me away. She was not intimidated at all and just jumped right in. She had ideas and didn't hesitate to share them. The three of us really fed off each other and also had a lot of fun."
"It was truly a teachable moment for me," added Parker. "The power of collaboration and giving young people opportunities to contribute might take you places – good places – you never would go on your own."   
This video really captures it all. The three of them were having so much fun, Parker decided he wanted to document their artistic process as they worked. Check it out!