Mentor at Myers Park High School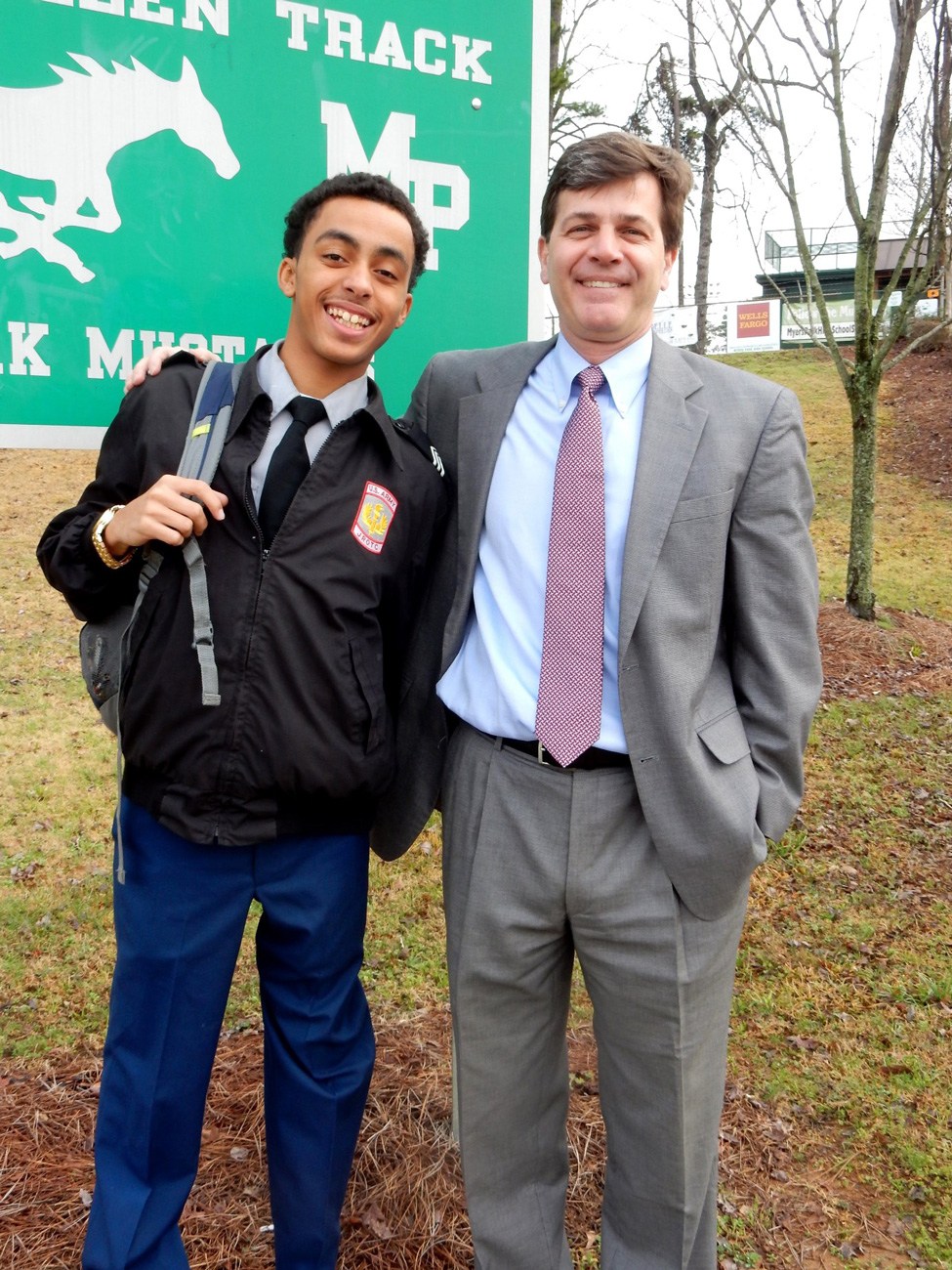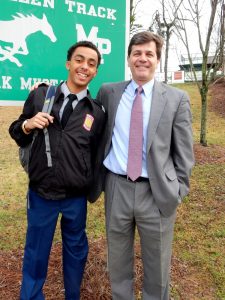 "Trustworthy." That's the first word that came to mind when Myers Park High School junior Bernard Bennett was asked to describe his CIS volunteer mentor, Pat Flanagan. "He's always there for me and follows through with whatever he says he will do," says Bernard.
Bernard and Pat met 18 months ago when Bernard was beginning his sophomore year at Myers Park. As the saying goes, sometimes it just "clicks." That certainly seems to be the case for these two.
"We hit it off immediately," said Pat. "He was quiet but honest, and willing to accept help with things that he knew he needed to become the man he wants to be."
Stacey Weinstein, CIS Site Coordinator at Myers Park, who connected Bernard with Pat, says Bernard has had some "serious ups and downs" in school and with difficult family issues, but that he is a "smart and very capable young man."
"I felt Bernard could benefit from a mentor such as Pat, who could be a positive, consistent presence in his life," said Weinstein. "I'm so grateful they have developed a trusting relationship that I believe will last beyond Bernard's high school years."
The two text each other regularly and get together outside of school as schedules permit – going to school events, out to eat, even going to church together recently. But mostly, says Bernard, "we just hang out."
Bernard is in the Jr. ROTC program at Myers Park and is considering joining the National Guard after graduation. He's also interested in forensic psychology. Pat says he sometimes helps out with a few material things Bernard may need, but he encourages Bernard to work hard for the things he aspires to obtain.
"We talk about his goals and what he wants to do and how to get there by working hard, not getting things for free," said Pat. "Mostly we just hang out and I ask questions and listen."
Bernard's family is supportive of their relationship and Pat made a point to meet Bernard's mother, father and siblings early on. "I think that was important to show them that I didn't want to replace anyone," said Pat, "but just be a help with things as needed. I keep in contact with his mom regularly to make sure everything is OK."
As a father of two Myers Park High School graduates and one current student, Pat says he has seen a lot of students at Myers Park and elsewhere who he feels "just need a little nudge or a little break to get over the edge."
"Sometimes it doesn't take much, and this is something that is not hard to do and is incredibly rewarding," Pat added. "If anyone has the inclination to volunteer in this way, I promise it will be up there as one of the best things they have ever done."