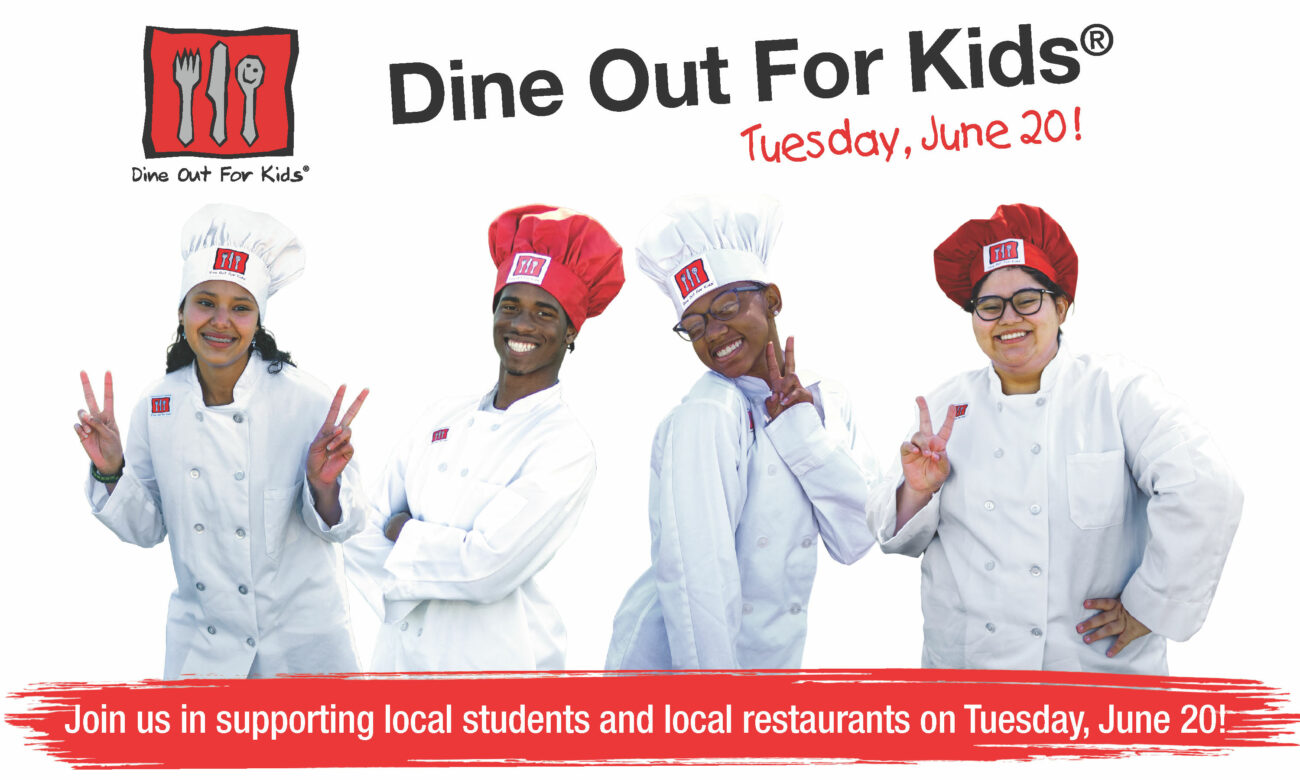 Please join us for our annual Dine Out For Kids® event on Tuesday, June 20! Communities In Schools is excited to partner with some of Charlotte's best restaurants to host this favorite community-wide event.  Dine Out For Kids® benefits thousands of local students in Charlotte-Mecklenburg public schools and helps raises awareness about the inequities in our educational system.
The concept is simple:  make plans to dine out on June 20 at one (or more!) of the participating restaurants listed below, and the restaurant will donate a portion of their sales that day to CIS. If you prefer to order take-out, that counts, too!  Either way, you  will be supporting the 5,000+ students we serve in CMS schools and local restaurants.
The "Why"
The need in our schools is great.  The ripple effects from the pandemic remain and are surfacing in poor attendance and lower academic performance. This past school year, chronic absenteeism in CMS (missing 18+ days of school) rose to 31%, which is more than double pre-pandemic levels. Among economically disadvantaged students, chronic absenteeism rose to 43%. The number of Title I schools in CMS (those that have high percentages of students who qualify for free/reduced lunch) has risen significantly in recent years:  this year for this first time, more than half of the 181 schools in CMS (94) are designated Title I. 
CIS currently operates in 55 CMS schools, 44 of which are Title I schools, and all of which have high numbers of economically disadvantaged students. CIS is committed to expanding our presence into the CMS schools that need our services the most – Title I and high poverty schools where there are students with great potential, but who often face racial and socio-economic barriers and lack the resources and equitable opportunities needed to achieve success in school and in life.
Your support of Dine Out For Kids® helps us maintain our current services in 55 schools and expand to serve additional high poverty schools. As a bonus, you'll be supporting local restaurants, too… and all you have to do is go out to eat!
So let's come together on June 20 to provide students with the resources and support they need to be successful in school and beyond. Together, we can make a difference in our community!
Many Thanks to these Participating Restaurants
Ace No. 3 – Belmont, Myers Park, Concord
Alexander Michael's
Bad Daddy's Burger Bar – Ballantyne, Christenbury, Dilworth, Gastonia, Huntersville, Mooresville
Brixx Wood Fired Pizza – Birkdale, Blakeney, Dilworth, Foxcroft
Calle Sol Latin Café & Cevicheria
Dilworth Neighborhood Grille
Eddie's Place
Famous Toastery of University
The Giddy Goat Coffee Roasters
Harper's Restaurant – SouthPark
HMSHost – Charlotte Douglas International Airport: 1897 Marketplace, Bad Daddy's Burger Bar, Phillips Seafood, Original Rum Bar & Grill, Stock Car Café, Summer House, Tequileria, Whisky River
Johnny Burrito
Kona Ice of Cabarrus County
Little Mama's
Mama Ricotta's
Mert's Heart & Soul
Midwood Smokehouse – Ballantyne, Birkdale Village, Park Road Shopping Center, Plaza Midwood
Mimosa Grill
Paco's Tacos and Tequila
Sonny's BBQ – Concord
Three Amigos Mexican Kitchen & Cantina
Village Tavern
YAFO Kitchen – Dilworth, Plaza Midwood, SouthPark
Many Thanks to our Event Sponsors