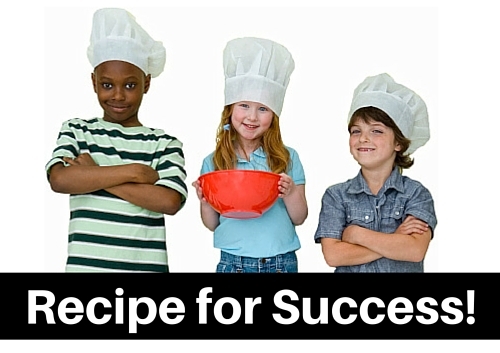 Dine Out For Kids® ~ June 19, 2018
We're cookin' up the perfect "Recipe for Success" for our students – and your participation in Dine Out For Kids® is a key ingredient!

Hooray, Dine Out For Kids® is almost here!  Some of the best restaurants in town will be donating a portion of their sales on Tuesday, June 19 to Communities In Schools. Make plans now to grab your friends, family, or hungry co-workers to dine out at one (or more!) of the following restaurants on June 19. Together we can help local kids get the resources and caring relationships they need to stay in school, graduate, and achieve in life.
Participating Restaurants
204 North Kitchen & Cocktails
Alexander Michael's
All American Pub
Bad Daddy's Burger Bar – Ballantyne, Birkdale, Concord, Dilworth, Mooresville
Brazwells Premium Pub – Ballantyne, Montford
Brio
Brixx Wood Fired Pizza – Birkdale, Blakeney,Dilworth, Foxcroft, Uptown
Café Monte
Charlotte Knights – June 10 Home Game
City Barbeque – University Place
Crêpe Cellar
Dilworth Neighborhood Grille
Dogwood Southern Table & Bar
Dressler's – Birkdale, Metropolitan
Eddie's Place
Famous Toastery of Dilworth
Famous Toastery of University
Five Guys Burgers and Fries – Arboretum, Blakeney, Central Ave, Galleria Blvd, Southborough, SouthPark Mall, Steele Creek
Haberdish
Harper's Restaurant – Carolina Place Mall, SouthPark
HMSHost – 1897 Marketplace, Bad Daddy's Burger Bar, Beaudevin Wine Bar, Brookwood Farms BBQ, Burger King, California Pizza Kitchen, Chick Fil A, Cinnabon, Explorer's Lounge, Great American Bagel, Original Rum Bar & Grill, Phillips Seafood, Pinkberry, PZA Pizza, Panda Express, Sbarro, Starbucks, Stock Car Café, Tequileria, Whisky River
Hot Taco
Johnny Burrito
Kona Ice of Northwest Charlotte
Mama Ricotta's
Mert's Heart & Soul
Midwood Smokehouse – Ballantyne, Birkdale Village, Park Road Shopping Center, Plaza Midwood
Mimosa Grill
Nothing But Noodles – Elizabeth Ave, Steele Creek, Stonecrest
Paco's Tacos and Tequila
The Porter's House
Reid's Fine Foods – Myers Park, SouthPark Mall
Sonny's BBQ – Pineville-Matthews, Tyvola
TRUE Crafted Pizza
Upstream
Village Tavern
YAFO Kitchen
Many Thanks to our Corporate Sponsors